Republican Troy Balderson barely leads Democrat Danny O'Connor, in ominous sign for the GOP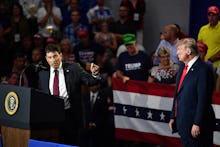 Republican state Sen. Troy Balderson holds a razor-thin lead over Democrat Danny O'Connor in a special election held Tuesday in Ohio's 12th District, with almost all votes counted.
Balderson leads O'Connor, 50.2% to 49.3%, with 100% of precincts reporting, according to the Associated Press. Provisional ballots remain to be counted, and it's possible the race could be headed to an automatic recount, which is triggered when the margin is within 0.5%.
If Balderson's lead holds, his narrow victory in a seat President Donald Trump carried by an 11-point margin in 2016 would still a bad sign for the GOP, which will have to defend far more competitive seats than this one in the November midterms.
"I know people don't want to hear this, but at this point it doesn't really matter," Sean Trende, an election analyst at RealClearPolitics, tweeted as results came in. "OH-12 shouldn't be a nail-biter for the GOP, even with two solid candidates running."
In order to defeat a Democrat in this seat, Republican outside groups spent millions in ads and even brought in Trump himself for a last-minute rally in the district Saturday night.
Yet anti-Trump enthusiasm still brought Democrats within 1 point of winning a seat they haven't held since Ronald Reagan was president.
Given Republicans have 72 districts more competitive than this one in November, Balderson's underperformance is a sign the GOP may see its House majority slip away in the fall.
Aug. 8, 2018, 6:25 a.m.: This article has been updated.
Correction: Aug. 8, 2018