Parkland shooting suspect Nikolas Cruz told police a "demon" in his head ordered school shooting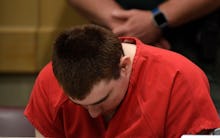 The teenage suspect arrested in connection with the Feb. 14 shooting at Marjory Stoneman Douglas High School that killed 17 students and faculty members confessed to the shooting in an interview with police shortly after he was detained, transcripts released Monday show. Then, he begged for death.
"Kill me," Nikolas Cruz, 19, reportedly muttered to himself after the detective who had been interviewing him briefly stepped out of the room. "Just (expletive) kill me. (Expletive)."
The newly released segment of the tape also reveals that Cruz claimed to have heard the voice of a "demon" in his head leading up to the shooting, which he said instructed him to "Burn. Kill. Destroy."
The new portion of the transcript was made available to the public on Monday by a Florida judge after several news organizations, including the New York Times, sued for its release under the state's public records law.
Although Cruz's defense team has already offered a guilty plea in exchange for a life sentence in prison, state prosecutors have said they will seek the death penalty. Because the trial is ongoing, a Florida law that bars direct confessions of guilt from public release before trial had previously prevented the transcript's release.
"Why didn't he kill me?" Cruz wonders aloud at one point of the audio, although it is unclear to whom he is referring. "Why didn't he kill me? Why didn't he kill me? Why didn't he kill me? Why didn't he kill me?"
At another point in the transcript, detective John Curcio of the Broward County Sheriff's Office can be heard asking Cruz whether he'd like a glass of water, to which Cruz responds, "I don't know." When the detective presses him as to why he's unsure, Cruz replies, "I don't deserve it."
The tape's release comes on the heels of new details about Cruz's educational record, made public via the report of an independent consultant hired by the Broward County school district in the aftermath of the shooting.
The review of the district's conduct found that key missteps were made in handling Cruz's significant and well-documented special needs, including a failure to provide him with a full range of therapeutic services during his time at Marjory Stoneman Douglas High School.
On Feb. 8, 2017, three months after choosing to attempt to complete his degree at Marjory Stoneman Douglas High School, Cruz's failing grades forced him to withdraw from the school. Three days later, he legally purchased the AR-15 assault rifle that he would use to commit one of the deadliest school shootings in U.S. history nearly one year to the day later.
Correction: Aug. 7, 2018