Kris Kobach, who ran Trump's failed voter fraud commission, wins gubernatorial primary in Kansas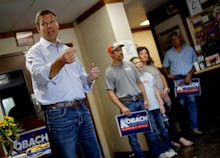 Kansas Secretary of State Kris Kobach will be the Republican nominee for governor in the Sunflower State, after his opponent, incumbent GOP Gov. Jeff Colyer, conceded on Tuesday night — one week after the primary.
The race had been too close to call since the Aug. 7 primary, with Kobach leading Colyer by just over 100 votes. Election officials in the state were in the process of counting provisional ballots, as well as doing a canvass to ensure the count was correct, when Colyer conceded.
"I congratulated him on his success and I repeated my determination to keep this seat in Republican hands," Colyer said on Tuesday, according to NPR.
Kansas Republican strategists didn't want Kobach to win, fearing his baggage as the head of President Donald Trump's failed voter fraud commission and his anti-immigrant policies would put the governor's mansion at play, even in a state as Republican-leaning as Kansas. Kobach was even rebuked by a federal judge in June who ruled one of the election laws he helped draft was unconstitutional and sanctioned Kobach over his behavior in court.
Aides warned Trump against endorsing Kobach for those reasons, according to the Associated Press. Yet on Monday, one day before the primary, Trump defied the warnings and tweeted his Kobach endorsement.
"Kris Kobach, a strong and early supporter of mine, is running for Governor of the Great State of Kansas," Trump tweeted. "He is a fantastic guy who loves his State and our Country — he will be a GREAT Governor and has my full & total Endorsement! Strong on Crime, Border & Military. VOTE TUESDAY!"
The gubernatorial election is currently rated as a likely Republican contest by the nonpartisan political handicapping outlet Inside Elections.