Black women are walking to save their lives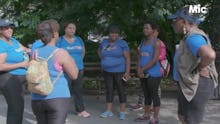 Morgan Dixon was working as a teacher when she heard a statistic about her students that changed her life. Half of the girls in her classroom would develop diabetes unless their diet and activity levels changed.
"And all of a sudden I could not do anything else," Dixon said in an interview. "I could not teach about the Civil War. I could not teach about the Harlem Renaissance."
Consumed by the problem, she did what any good teacher would do: She created an action plan to get her class moving and began taking her students hiking on Saturdays, calling the hikes "GirlTrek."
It was this activity and ongoing conversations with her friend, Vanessa Garrison, that began what would become GirlTrek, the national health organization Dixon co-founded to both engage young girls in walking and reach their mothers who were facing a health crisis in real time.
"Black women are dying faster and at higher rates than any other group from preventable obesity-related diseases, and those women have the names of my aunts and my friends and my community members and that felt unacceptable," Dixon said.
The statistics are staggering: According to the Centers for Disease Control and Prevention, about 82% of black women are over a healthy body weight and 53% are obese. According to the American Heart Association, 48.3% of black women over 20 are living with cardiovascular disease.
GirlTrek is on a mission to save the lives of black women across America, and its solution is surprisingly simple: walking. Walkers, otherwise known as Trekkers, walk 30 minutes every day and join weekly walks in their community.
For women like Carolyn Richardson, GirlTrek is a lifeline. As a single mother living in the Bronx borough of New York City, Richardson is under a lot of stress — she carries the full weight of financially supporting and parenting her teenage daughter. She found in GirlTrek not only an accessible approach to health and fitness, but also a supportive community of like-minded women.
"It gave me sisterhood, you know ... people I could talk to if I was stressed or whatever, and it had health benefits in the sense that, you know, a lot of my medical issues that I had starting getting corrected," Richardson said. "For example, I was, for a few years, I was pre-diabetic. I'm no longer in the danger zone. My blood pressure used to be controlled by medication. I'm no longer taking that medication. ... My cholesterol is at a good level. Basically all my numbers [are] just about right."
The change Richardson has seen in her life is exactly what GirlTrek hopes will happen for its 150,000 other Trekkers across the country — and what it hopes will grow to reach 1 million black women.
"So a million [black women] is the initial vanguard," Dixon said. "A million are the leaders are the front lines. Our goal is to change population level health for the 20 million ... our goal is to change culture."
For more on GirlTrek, check out episode eight of Mic Dispatch — only on Facebook Watch.
To catch future episodes of Mic Dispatch, follow Mic Dispatch on Facebook Watch. For more stories about the show, visit the Mic Dispatch collections page.