#38PercentCounts calls attention to pay gap between black women and white men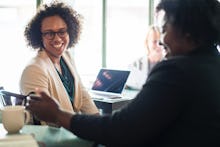 Tuesday marks Black Women's Equal Pay Day, the day on which the average annual income for black women catches up to white men's average income from the previous year. In other words, it took black women an additional eight months and seven days of work on average to earn the same amount of money a white man earned in 2017.
Black women today earn 38% less each year than white men, or 62 cents to every white man's dollar. According to research conducted by the women's empowerment organization Lean In (in partnership with the National Urban League and SurveyMonkey), more than 30% of Americans are unaware black women are paid significantly less than white men. What's more, about half of white men think black women no longer face barriers to advancement — and 45% of hiring managers are unaware of the 21% pay gap between black women and white women.
A campaign called #38PercentCounts is calling new attention to these inequities.
"Black women deal with double discrimination every day," Rachel Thomas, president of Lean In, which is spearheading the campaign, said in a press release. "They face biases for being women and biases for being people of color. One place where we see that double effect is in the 38% pay gap."
#38PercentCounts aims to highlight several key issues, including how such pay disparities become greater as black women attain more education. Between white men and black women who did not graduate from high school, the pay gap is 24%; for those with high school educations, it's 35%. The gap widens to 36% between white men and black women with bachelor's degrees and remains the same for those who hold advanced degrees.
These disparities begin as soon as black women start working and continue into their late careers. Black girls and women aged 16 to 24 make 16% less than white men of the same age; the gap grows to 32% for workers between the ages of 25 and 54 and 39% less for those 55 and older.
All told, the pay gap means black women earn an average of $870,000 less over the course of their careers — a tremendous long-term impact, especially for black women with families. More than 80% of black women are household breadwinners and 60% are raising children on their own, according to the Institute for Women's Policy Research.
"Not only would fair pay for black women drastically narrow the racial economic gap, but it would go a long way toward stabilizing our national economy," National Urban League President and CEO Marc H. Morial said in a news release. "Because black women disproportionately are heads of households, fair pay would create a ripple effect that could lift entire communities."
Lean In is partnering with businesses to spread awareness around this pay disparity. Adidas is displaying #38PercentCounts messaging in their stores and online, while Lyft is asking passengers to "think about the impact of ending their rides early (with 38% of the way still left to go)." Other partners include P&G and Reebok.
But this report is only the latest to explore and explain the financial barriers black women face in the U.S. ProjectDiane 2018 found that funding for startups led by black women is still low on average compared to startups overall. Black women also graduate with more student loan debt than both white men and white women, according to the American Association of University Women.
On Nov. 1, Lean In plans to launch a similar campaign regarding the gender pay gap for Latina women, who have to work nearly three months longer than even black women to catch up to white men's average annual income.