Michael Cohen is reportedly being investigated for possible tax fraud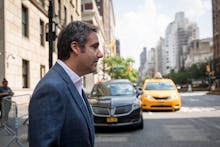 Michael Cohen is under federal investigation for potential tax fraud, according to a new report, which paints a more detailed picture of the legal peril President Donald Trump's ex-lawyer has found himself in.
The Wall Street Journal on Tuesday reported that federal prosecutors are looking into the possibility that Trump's former fixer underreported the money he earned from his taxi business. Investigators are also examining potentially shady loans he may have obtained, sources familiar with the investigation told the outlet.
The new report seems to underscore the legal pressure Cohen is under, and comes as he increasingly indicates a willingness to cooperate with investigators against the man he once said he'd "take a bullet for."
Cohen was the subject of an FBI raid in April as part of an investigation into a number of possible crimes, These include potential campaign finance violations related to the money he paid porn star Stormy Daniels in 2016 to keep quiet about the affair she allegedly had with Trump a decade earlier.
Trump at the time called the raid an "attack on our country" and initially defended his former attorney. But in the ensuing months the president has attempted to put as much daylight as possible between himself and his former attorney, and has gone on to attack him as Cohen has increasingly become a thorn in the president's side.
Cohen has become more of a problem for the president in recent weeks, both over his apparent attempts to cover up Trump's alleged affairs and over Cohen's knowledge of the meeting his son, Donald Trump Jr., took with a Kremlin-connected attorney in 2016 to get dirt on Hillary Clinton.
In July, Cohen reportedly alleged that Trump approved the infamous Trump Tower meeting between Trump Jr., Jared Kushner, Paul Manafort and Natalia Veselnitskaya — a Russian lawyer who supposedly had damaging information about the Democratic nominee.
That episode — which the Trump campaign also claimed not to have had any knowledge of at the time — has been a key episode in special counsel Robert Mueller's investigation into possible collusion between the campaign and the Kremlin, along with potential obstruction of justice on the part of the president.
Meanwhile, a recording that Cohen had made of he and Trump discussing a plan to bury the story of Karen McDougal, a former Playboy model who also says she had an affair with Trump, emerged in July and seemingly contradicted the Trump team's claim that he had no prior knowledge of the matter.
Trump confirmed on Sunday that his son had been seeking Kremlin-collected dirt on his former opponent — directly contradicting his earlier explanation for the meeting — but said that it was "totally legal" for him to have done so. Nevertheless, he restated that he "did not know about it!"
Trump and his attorney, Rudy Giuliani, have each attacked Cohen's credibility in recent weeks. Giuliani, who had previously called Cohen an "honest, honorable lawyer," said in late July that the fixer had been "lying for years."
Trump, who had previously expressed doubt that Cohen would flip, suggested in late July that the lawyer is lying to investigators to get out of legal trouble related to his taxi medallion business.
"Sounds to me like someone is trying to make up stories in order to get himself out of an unrelated jam," Trump tweeted on July 27.