Vending-machine startup Bodega has rebranded itself — 10 months later — as Stockwell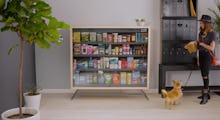 In a recent blog post, Bodega co-founder and CEO Paul McDonald announced his reimagined vending-machine startup would be renamed Stockwell. When Bodega first launched last September, it received criticism over its appropriation of the word "bodega." The name change, 10 months later, not only misses the meaning behind its past controversy, but still raises the question: What does the business actually do well?
The startup, led by two ex-Googlers, faced an enormity of criticism when it announced its arrival into offices and apartment lobbies throughout San Francisco, with plans to replace the "centralized shopping" experience — in other words, actual bodegas — and expand into cities nationwide.
The vending machine or "store," as Stockwell refers to itself on its website, allows users to purchase convenience store items like potato chips, Advil or LaCroix via app. The machines are restocked based on consumers' buying habits.
Last fall, McDonald told Fast Company he wasn't concerned over the backlash surrounding his company's name.
"We did surveys in the Latin American community to understand if they felt the name was a misappropriation of that term or had negative connotations, and 97% said 'no,'" McDonald said.
The business also faced a firestorm in the form of angry, riotous tweets over its perceived competition to local bodegas and corner stores.
"My bodega owners are Yemeni immigrants and the bodega not only affords them a life in New York but also allows them to send money back home," Elle editor Jessica Roy said on Twitter "I invented a bodega that replaces former Google employees," another user joked. "It's bullshit," one bodega owner succinctly told Mic in September.
McDonald has finally acknowledged the brand's contentious name in his July 18 blog post; its new name is reportedly one of a number of changes in store for the startup.
"The inspiration for our former name, Bodega, was, we thought, an homage to the local corner store, the people who ran it and their place in our collective conscious," McDonald wrote. "We were wrong. We reviewed the feedback thoughtfully and ultimately decided that our new name, Stockwell, was a better expression of our mission and our unique offering to consumers — a store open 24 hours, filled with the things they need, located right where they live, work and play. We'll continue to celebrate small, local brands and also bring you products you know and trust."
In response to the rebranding, Eater's Greg Morabito wrote that the company "still seems like a parody of a tech startup."
Moreover, renaming the business is a seemingly insignificant change, since the startup still aims to replace local immigrant-owned bodegas — which, in the wake of anti-immigrant sentiment, now serve a greater purpose than ever.
Not to mention, in cities like San Francisco or New York where bodegas and drug stores are practically on every corner, how different is buying a soda from a vending machine than from a Stockwell vending machine? Sure, it's visually appealing, but do we really care about how our Diet Coke is dispensed?
As one Twitter user said in response to the rebranding, "Another chapter of Twitter controversies comes to an end." We have a feeling this is only the beginning.