Report: White House readying policy to make it harder for legal immigrants to become citizens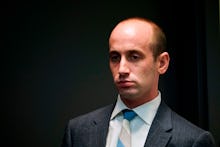 While the dust has yet to settle on the Trump administration's last chaos-inducing immigration policy in which asylum-seeking parents were separated from their children at the border, senior adviser Stephen Miller is now fine-tuning the details of a new proposal that would make it more difficult for legal immigrants to become citizens or obtain green cards, NBC reported Tuesday.
Based on a draft of the plan described to NBC, the new policy is reportedly a crackdown on immigrants who have at any point used social safety net programs like the Children's Health Insurance Program, the Supplemental Nutrition Assistance Program, the Affordable Care Act and other government benefits — even if the individuals in question are pursuing a legal pathway to citizenship.
The rules would also apply to immigrants whose household members have used such programs, NBC reported.
The rule change would not prevent immigrants from using government benefits outright, according to CNN. Rather, it would empower officers charged with evaluating green card and residency visa requests to use participation in these programs as grounds to deny applications by reasoning the applicant would be a burden on the U.S. government if approved.
The proposal is the latest attempt by Miller — reportedly a driving force behind President Donald Trump's much-maligned travel ban — to limit the number of nonwhite people immigrating to the United States. Immigration lawyers and advocates who spoke to NBC said the change, if implemented, could affect the fates of more than 20 million immigrants, with the working poor hit particularly hard.
During his time in the White House, Miller has been the chief architect behind several policies explicitly designed to curb immigration, including the administration's "zero tolerance" immigration policy that resulted in the separation of thousands of children from their parents at the U.S.-Mexico border.
According to NBC, the White House Office of Management and Budget is currently reviewing a version of the plan — the last step needed before the rule is published in the federal register. It would not require congressional approval.
The administration was considering the policy shift as early as February, Reuters previously reported.
"The administration is committed to enforcing existing immigration law, which is clearly intended to protect the American taxpayer," Department of Homeland Security spokesman Tyler Houlton said at the time. "Any potential changes to the rule would be in keeping with the letter and spirit of the law — as well as the reasonable expectations of the American people for the government to be good stewards of taxpayer funds."