Ruby Rose will play a queer Batwoman on the CW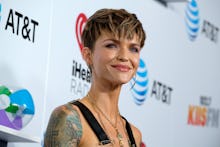 Australian actor Ruby Rose has been cast as Batwoman for the CW, Variety reported Tuesday. She'll make her debut as the DC Universe character in an upcoming crossover event between CW superhero shows The Flash, Arrow, Legends of Tomorrow and Supergirl.
The CW is also working on developing a separate Batwoman series — which, if it gets picked up, would presumably also star Rose in the role of the titular superhero. The new Batwoman, who was reintroduced in the comic books in 2006, is an out lesbian. As the BBC reported in July, she's since become the "the highest-profile openly gay character of any DC comic."
Like her counterpart Batman, Batwoman is based in Gotham City, where she fights crime and kicks butt. According to the BBC, the CW's synopsis for the upcoming Batwoman series describes Batwoman, aka Kate Kane, as an "out lesbian and highly trained street fighter primed to snuff out the failing city's criminal resurgence." The character is "armed with a passion for social justice and a flair for speaking her mind," though she must "overcome her own demons" in her quest to realize her full potential.
News broke in July that creators of the new Batwoman series — which were hoping to cast an out gay actor in the title role. (Caroline Dries, who TVLine reports also out as gay, will serve as both writer and executive producer for the show)
It looks like creators have found their star in Rose, a former MTV video jockey in Australia who broke into American television with her role on Netflix's Orange Is the New Black. Rose is out as gay and gender fluid.
"For the most part, I definitely don't identify as any gender," Rose said in a 2015 interview with Elle. "I'm not a guy; I don't really feel like a woman, but obviously I was born one. So, I'm somewhere in the middle, which — in my perfect imagination — is like having the best of both sexes."
All hail our new Batwoman.