From tomato jam to okra fries, Asheville's chefs are redefining Appalachian food with global flavors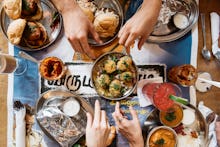 In southern Appalachia — the mountainous region that stretches from West Virginia to Mississippi — the trendiest food movements are nothing new. Farm-to-table cuisine, whole animal meals and preserved vegetables are practices that go back generations, to a time when using the local bounty and canning foods throughout the year was done out of necessity, not an evolving public moral consciousness.
"The types of dishes that you think of that are representative of the area — leather britches, which are dried beans which are then cooked, or dried apple snack cake, different kinds of preserves, or using lard and cornmeal and sorghum — it was all based on what's inexpensive and what's a way to make it last, to get through the whole year because people were living off the land and they only had what they grew," chef Katie Button, owner of Cúrate and Nightbell in Asheville, North Carolina, said.
Sitting in the heart of the region, Asheville has risen as Appalachia's culinary epicenter in recent years. Here, you'll find the backbone of conventional Appalachian cuisine hasn't changed much. At Nightbell, a small-plates restaurant with a focus on local ingredients, Button and her team pickle green garlic and preserve tomatoes for jam in the summer months. Come fall, they'll add leather britches to the menu. But Button and other local chefs are also stretching their legs, using local ingredients to infuse Southern flavors into global cuisines.
Appalachian cuisine itself is a fusion of foods from around the world, chef Meherwan Irani said.
"Every cuisine of every region, I don't care how sort of specific you think the cuisine of that region is, it's a melting pot," Irani, executive chef of the Chai Pani Restaurant Group, which includes three Asheville restaurants and a spice shop, said. "The food of the South has been influenced by the early European settlers that came here and the things they brought."
In the kitchen at Chai Pani, his Indian street food restaurant, Irani uses local ingredients to shift the boundaries of Indian cuisine. Kale pakoras and okra "fries," julienned and served with a wedge of lime, are on the menu alongside classic street food like pav bhaji or bhel puri.
"There's always the Southern interpretation of modern American cuisine," Irani said. "But what I think is even more interesting is restaurants like Chai Pani or Cúrate, reinterpreting their cuisine given the fact that those restaurants exist in the South."
At Cúrate, a Spanish tapas bar, Button has developed a menu influenced by the seasons, using the best ingredients and preparing them simply.
"Lots of times that involves local ingredients, because we get the best produce when it's picked a few miles from our doorstep," Button said.
One of Cúrate's seasonal menu items, a classic Spanish dish called espinacas a la Catalana — which translates simply to Catalan spinach — is only offered during the spring and fall, when spinach grows locally.
"Using that kind of balance, we end up with better products and our food tastes better," Button said. "It just makes sense."
Growth and opportunity in Asheville
As Asheville has boomed — its population has increased 26% since the 2000 census, to about 91,000 — its list of accolades has also grown. Magazine pages and online photo galleries are dedicated to the best things to eat, drink and do in this mountain town famous for the sprawling Biltmore Estate, the largest privately owned house in the U.S. and Asheville's primary tourist attraction.
Irani said it's been remarkable to experience Asheville's growth firsthand.
"When we moved here [in 2005], it was starting to get some buzz as a cool, sort-of-great-quality-of-living town, which is why we moved, but it absolutely had not started any buzz about the culinary food scene," Irani said. "When you have that kind of ... young energy and a lot of young people moving to a town, it really fosters an entrepreneurial spirit. And literally around me I saw many of these folks moving in and either opening art studios or music or pottery or restaurants."
Asheville's rapid growth has come at a cost: In 2017, it was ranked the second-fastest gentrifying city in the country, with home prices rising 88% from 2000 to 2015. While it's no longer as affordable or easy to move there and establish a business, opportunity is still present in the region.
In South Asheville, not far from the Biltmore Estate, Abeja's House Cafe is regarded as a local treasure and favorite for its huevos rancheros, chilaquiles and house-made biscuits and croissants.
Owners Rafael and Martha Alejeo immigrated to the United States in 1998 and 2001, respectively, starting as dishwashers at a regional chain restaurant and working their way up through the kitchens of some of Asheville's most popular brunch spots. They opened Abeja's House Cafe in 2015, focusing on quality local, organic and humanely produced ingredients.
It's a story that feels uniquely possible in Asheville. The city's entrepreneurial reputation is what inspired Button and her family — including her parents and husband, Félix Meana, who are all business partners — to open Cúrate there in 2011.
"We came through Asheville and it was this amazing, vibrant, walkable downtown with artists and musicians, and the farmers' markets were packed," Button said. "It's grown a lot since then, but it was already a city of creative entrepreneurs."
A collaborative culinary scene
The food scene, Button said, has followed in the footsteps of the artists and musicians.
"We're drawn here because of the great farming community and small, independent farmers and producers," she said, noting the cheese, honey, chocolate and even flour that are all available locally. "It's just a whole amazing array of products that are available right here. It's created this perfect niche for chefs and restaurants to enjoy and have fun and live."
Asheville has a unique community when it comes to collaboration among chefs and food producers, John Fleer, chef and owner of Rhubarb and the Rhu in downtown Asheville, said.
"The creativity and food and drink culture is not driven by the chefs; it is driven by the makers and artisans and farmers," Fleer said in an email interview. "I can't think of anywhere in America where chefs are supported by the foundation of the rest of the food- and drink-making community as well as we are here."
Fleer, who has been recognized six times by the James Beard Foundation, opened Rhubarb in 2013 after working in restaurants across the Southeast.
"I do attribute our focus on locally sourced ingredients to the unique Appalachian spirit of 'making do' with what you have," Fleer said. "Historically, the region has not been a prosperous one, but has created a sense of having enough, if not a sense of prosperity, through its diligence and ingenuity."
It's a collaborative enterprise that benefits both parties.
"The restaurant market has completely transformed what we do," Aaron Grier, who owns Gaining Ground Farm in Leicester, roughly 20 minutes northwest of downtown Asheville, said. Grier and his wife Anne farm 12 acres of vegetable crops, receiving weekly orders from a dozen local restaurants, including those owned by Fleer and Button.
Grier credits Fleer for "starting a movement" through his support of local farmers and producers.
"What's the coolest is delivering in the alley [behind Rhubarb] twice a week and there's two other trucks behind us [from local farms]," Grier said. "That's what keeps this beautiful thing going."