Mic Daily: Trump reinstates Iran sanctions, Michael Cohen reportedly under investigation and more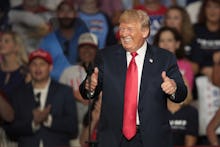 Welcome to Mic Daily: Mic's newsletter that cuts through the noise and lands in your inbox every weekday. We carefully curate each edition to send you a cross section of our most vital stories of the day. Want to receive this as a daily email in your inbox? Subscribe here.
Want more entertainment news in your inbox instead? Sign up for Hype Daily — Mic's morning entertainment roundup. It's got all the news you need to start your day.
Michael Cohen is under federal investigation for potential tax fraud, according to a new report, which paints a more detailed picture of the legal peril President Donald Trump's ex-lawyer has found himself in.
President Donald Trump is slapping Tehran with sanctions that had been lifted as part of the Iran nuclear deal, the landmark 2015 accord he deemed "incompetent" and withdrew the United States from earlier this year.
If Sharice Davids wins, she'd become the first Native American to represent the state of Kansas in Congress. She'd also be the state's first out gay congresswoman.
Australian actor Ruby Rose has been cast as Batwoman for the CW, Variety reported Tuesday. She'll make her debut as the DC Universe character in an upcoming crossover event between CW superhero shows The Flash, Arrow, Legends of Tomorrow and Supergirl.
Forget Activia. Crickets may soon become the next probiotic trend.
According to a study published in Scientific Reports in July — the first clinical trial of its kind — crickets may actually increase enzymes in the stomach that aid metabolism.