Hype Daily: "Hey There Delilah" on TV, LeBron's new show and more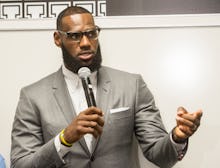 Welcome to Hype Daily, Mic's morning entertainment roundup. Here's everything you need to catch up on in the entertainment world and what to look forward to today. Want to receive this as a daily email in your inbox? Subscribe here.
Good morning from Hype reporter Anna Swartz.
They're making the song "Hey There Delilah" into a TV series? What?
Um, I'm not really sure what to make of this news but the Hollywood Reporter reported on Tuesday that the hit 2006 Plain White T's song "Hey There Delilah" is being adapted into a scripted TV show for some reason. Apparently the band's lead singer, Tom Higgenson, will also produce the show.
The plot will probably center around a relationship, I'm guessing between a struggling musician and a woman named Delilah who lives in New York City. According to the Hollywood Reporter, Higgenson and writer Jeremy Desmon will be pitching the show to "multiple networks and studios this month." Good luck, guys!
Sarah Palin might not make it into Sacha Baron Cohen's Who Is America? after all
In July, former vice presidential candidate Sarah Palin announced that she had been duped by comedian Sacha Baron Cohen, seemingly as part of his then-unaired Showtime series Who Is America? The former Alaska governor wrote in a Facebook post, "I join a long list of American public personalities who have fallen victim to the evil, exploitive, sick 'humor' of the British 'comedian' Sacha Baron Cohen, enabled and sponsored by CBS/Showtime."
But now it seems like Palin might not even make an appearance in the show. Indiewire reported on Monday that Showtime Networks CEO David Nevins hinted to reporters that Palin's segment might not make the cut.
"All I can say about that is there are several people who have thrown themselves into buses that may not be heading their way," Nevins said. "Sacha is incredibly hard-working and selective in the final product. And he's always refining it. He has a very high bar. We will see what we see."
LeBron James' new show is going to be called Shut Up and Dribble
Basketball, acting, philanthropy — LeBron James does it all. He's also good at playing his critics. Deadline reported on Monday that James is working on a new docuseries for Showtime, reportedly an "an inside look at the changing role of athletes in our fraught cultural and political environment, through the lens of the NBA."
The title of the series will be Shut Up and Dribble, a direct quote from Fox News' Laura Ingraham, who, in February, suggested that James and other NBA stars should "shut up and dribble" rather than being politically engaged or speaking out against President Donald Trump on social media. James' show has been in the works for a long time — but now it finally has the perfect name.
Moviepass is... making a Bruce Willis movie?
You remember Moviepass, the struggling movie subscription company that recently announced a series of new changes that seem like they might signal its end? Well, now they're apparently making a new movie starring Bruce Willis. Deadline reported on Tuesday that the company's subsidiary, MoviePass Films, has tapped Bruce Willis to star in its upcoming action movie 10 Minutes Gone.
According to Deadline, 10 Minutes Gone is the story of a "a man who loses 10 minutes of his memory due to being hit by a stray bullet during a bank heist gone wrong," and now "must put the pieces of his broken memory together in order to find out who sabotaged the job and took the money."
Willis will play the "crime boss" who is chasing the lead. Deadline reports that this is actually Moviepass Films' third movie, after the thriller The Row and the John Travolta drama Gotti. Ok then!
Put this on your radar: BlacKkKlansman
Spike Lee's highly anticipated new film BlacKkKlansman, which stars John David Washington (son of Denzel) and Adam Driver, hits theaters on Friday — a date chosen to coincide with the first anniversary of the deadly white supremacist rally in Charlottesville, Virginia.
It tells the story of a real-life black police officer in Colorado, who went undercover to infiltrate the Ku Klux Klan, eventually rising in its ranks. The film is set in the 1970s, but there are plenty of parallels to today, and Lee even uses footage of the Charlottesville rally to underscore that point.