Today in Trump's America: Tuesday primaries show the Democratic wave is real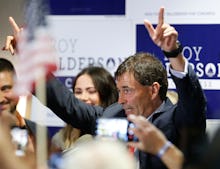 Welcome to Mic's daily read on Donald Trump's America. Want to receive this as a daily email in your inbox? Subscribe here.
Good morning from Emily Singer at Mic.
Check out Mic Dispatch, Mic's new show reporting on the problem-solvers and the provocateurs in our changing world. Subscribe here for alerts on new episodes airing Tuesdays and Thursdays, 8 p.m. Eastern, on Facebook Watch.
Here's what's happening in Trump's America:
• It's another quiet day for Trump, who's on vacation at his New Jersey golf club. The only event on his schedule is another "dinner with supporters" at 7:30 p.m.
About last night: The Democratic wave is real
Results are still being tabulated in a handful of races, but suffice it to say, 2018 is shaping up to be a great year for Democrats.
One catch: Democrats don't appear to have won the special election in Ohio's 12th District on Tuesday. With all precincts reporting, Republican Troy Balderson leads Democrat Danny O'Connor by 0.9%, or 1,754 votes. Provisional ballots remain to be counted, but it's unclear if there are enough remaining to push O'Connor to victory.
Nevertheless, Republicans pulled out all the stops in this district, outspending Democrats and bringing in their top surrogates — including President Donald Trump himself — and still almost lost a seat the GOP has held since Ronald Reagan was president. If we're watching districts like this one come down to the wire on Election Day this November, Republicans are unlikely to maintain their House majority.
Ohio's 12th District wasn't the only one where voters went to the polls on Tuesday. Michigan, Missouri, Kansas and Washington state all held primary elections to determine party nominees for the midterm elections this fall.
Results from contests in those states showed Democratic women are still dominating primaries.
In Michigan, Democrats nominated former state Sen. Gretchen Whitmer as their gubernatorial nominee. Whitmer romped to victory in a three-way field, capturing 51.8% of the vote to defeat Abdul El-Sayed — who had the backing of Sen. Bernie Sanders (I-Vt.) — and Shri Thanedar, a wealthy businessman.
Democratic voters in Michigan's 13th District also made history by nominating Rashida Tlaib to succeed former Rep. John Conyers, who resigned in 2017 amid sexual harassment allegations. Tlaib is heavily favored to win in this deep-blue district, which Hillary Clinton carried with 79% of the vote in 2016. If Tlaib makes it to Congress as expected, she will be the first Muslim woman in the House.
Votes have not been fully counted out of Michigan's 11th District — a toss-up seat being vacated by retiring GOP Rep. David Trott — but with 86% reporting, Democrat Haley Stevens leads a crowded primary field by 4%. Stevens was endorsed by Clinton in the final days of the race, and that could have made the difference in this large field.
In Missouri, voters defeated a so-called "right-to-work" bill that would have decimated unions in the state by saying that private sector employees did not have to join or pay fees if they were part of a unionized workplace. The right-to-work bill went down big, 67.5% to 32.5%. Democratic Sen. Claire McCaskill opposed the right-to-work legislation, while her newly minted GOP opponent, Missouri Attorney General Josh Hawley, supported it.
Kansas is still counting votes, but Democrats in the state picked Laura Kelly as their gubernatorial nominee, marking yet another female Democratic victory for a high-profile race.
The race for the Republican gubernatorial nomination in the state is also incredibly close, with Secretary of State Kris Kobach leading current GOP Gov. Jeff Colyer, 40.7% to 40.5%, with 95% of precincts reporting, according to the New York Times. Republicans in the state fear that a Kobach nomination could imperil their party's chances of keeping the gubernatorial mansion, as Kobach has plenty of baggage. He is the former head of Trump's failed voter fraud commission, and was sanctioned by a federal judge in June over a voter ID law he helped craft in the state.
Further down the ballot in Kansas, another Sanders-backed Democrat looks to be in trouble. Sanders endorsed and held a rally for Democrat Brent Welder in Kansas' 3rd District — a competitive seat this fall — but Welder currently trails Democrat Sharice Davids, a progressive lesbian MMA fighter, 36.2% to 35.3%, with 71% of precincts reporting, according to the Times.
Primaries in Washington state also foreshadow a tough November for the GOP. Like California, Washington state holds "jungle primaries," in which the top two finishers in the race advance to a general election, regardless of party identification. So primary elections in Washington state are kind of like real-life polls of a general election, where you can see how much support a party or incumbent has months before Election Day.
It should worry Republicans that GOP Reps. Jaime Herrera Beutler and Cathy McMorris Rodgers — a member of Republican House leadership — posted weak primary numbers Tuesday night. Not all the votes have been tabulated, but as it stands, Herrera Beutler took just 41% of the vote in the primary, while McMorris Rodgers captured 47.5% — weak numbers for incumbents.
Today in Trump's America: Manafort trial continues
Tuesday was a huge day in the trial against former Trump campaign chairman Paul Manafort.
Manafort's former associate Rick Gates spent six hours on the witness stand twisting the knife into Manafort, laying out the crimes he says the two men committed together — including evidence showing that it was Manafort who directed Gates in these matters.
Gates' testimony is problematic for Manafort, whose defense team is trying to convince a jury that Gates was the mastermind behind the criminal activity, and that Manafort is the victim.
In an email in 2011 that prosecutors showed the jury, Manafort tells Gates to "proceed" with foreign wire transfers to hide income from the IRS, in violation of federal tax law, according to CNN.
In an email from 2015, Manafort wrote to Gates "WTF? How could I be blindsided like this" — referring to the tax rate he would have to pay. And in a 2016 email, Gates emailed Manafort to tell him the "circles are now squared," regarding falsified numbers in a financial statement, suggesting Manafort knew about the fraud.
Manafort's team got to cross-examine Gates, and got him to admit to embezzling money from Manafort, as well as to having an affair. But it's unclear how that helps Manafort's case, given that there are multiple witnesses now testifying that Manafort knew about, as well as directed, the tax evasion and bank fraud that was committed.
"There is overwhelming evidence of Manafort's guilt and the most damning evidence are documents and emails that he wrote or saw," former federal prosecutor Renato Mariotti tweeted. "Some of them will be impossible to explain away."
Trump himself was also brought into the trial on Tuesday, when prosecutors showed that Manafort sought to get a banker who had allegedly given him a loan on false pretenses appointed secretary of the Army in the Trump administration. The banker, Stephen Calk, was not selected for that role, but he was named to Trump's Economic Advisory Council in 2016, according to CNN.
The trial resumes again on Wednesday at 9:30 a.m.
And the rest…
Fill the swamp?: ProPublica published an investigation that found three members of Trump's Mar-a-Lago club in Palm Beach, Florida, have been serving as "shadow" heads of the Department of Veterans Affairs. Neither of the three men — who include Marvel Entertainment chairman Ike Perlmutter, a lawyer named Marc Sherman and Bruce Moskowitz, a concierge doctor in Palm Beach — have ever served in the military or the government, according to ProPublica's report.