"Manhattan Madam" to testify before Mueller's grand jury in Trump-Russia probe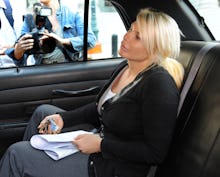 Kristin Davis, whose escort service supposedly catering to New York's most famous men made her a tabloid fixture, is expected to testify Friday before a grand jury in Robert Mueller's Russia probe.
It's not clear exactly what information the so-called "Manhattan Madam" has, but it's likely that investigators will examine her strong ties to political consultant Roger Stone, as they seem to build a case against the Republican operative and Donald Trump ally.
Davis, 41, was questioned by Mueller's team on Aug. 1 and will reportedly appear before his grand jury on Friday.
Davis rose to prominence a decade ago after being arrested for operating a high-end prostitution racket that purportedly serviced rich and powerful figures, including former New York Gov. Eliot Spitzer and New York Yankees star Alex Rodriguez, unnamed sources told the New York Daily News.
Davis' case was instant tabloid-fodder, and after serving nearly four months at Rikers Island, she mounted an unsuccessful bid for New York governor in 2010 — with the help of Stone, the eccentric political operative who has appeared to face increasing scrutiny in recent weeks in Mueller's probe into Russia's interference in the United States election in 2016.
Stone — a close ally of the president who has served at times as one of his unofficial advisers — has admitted to interacting with Guccifer 2.0, the fictitious online persona the Kremlin used to release stolen documents from the Hillary Clinton campaign and the Democratic Party.
Mueller in July indicted a dozen Russian intelligence officers who conspired to "gain unauthorized access into the computers of U.S. persons and entities involved in the 2016 U.S. presidential election, steal documents from those computers and stage releases of the stolen documents to interfere with the 2016 U.S. presidential election," according to the indictment.
These officers released the stolen documents via online personas, according to the charges, which noted that a "person who was in regular contact with senior members of the presidential campaign of Donald J. Trump" had communicated with Guccifer 2.0.
The person was not named in the indictment, but Stone has said he is "probably" the American referred to in the document.
The indictment also makes reference to an organization that had been in contact with Guccifer 2.0. While the organization isn't named, it is believed to be WikiLeaks. According to reports in March 2018, Stone told associates that WikiLeaks founder Julian Assange had briefed him on stolen emails the organization had obtained that could damage Clinton — Trump's Democratic opponent in 2016.
Stone is close with Davis, he confirmed in statements to several news outlets last week.
"Kristin Davis is a longtime friend and associate of mine," Stone told CNN. "I am the godfather to her 2-year-old son. She knows nothing about Russian Collusion, WikiLeaks collaboration or any other impropriety related to the 2016 election which I thought was the subject of this probe."
While Stone expressed confidence that Davis doesn't have information relevant to the probe, her voluntary meeting with prosecutors last week — and her upcoming grand jury testimony — may signal that Mueller's team is building up a case against him.
This could all put significant pressure on Stone, who is also a longtime associate of embattled former Trump campaign chairman Paul Manafort, and could bring Mueller's probe even closer to the president.
Stone has been of significant interest to Mueller's team for about a month and, according to ABC News, at least nine people associated with him have been contacted by the special counsel.