Trump's "man on the Hill" arrested by FBI on securities fraud charges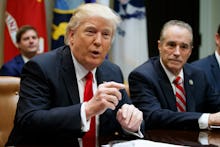 Rep. Chris Collins (R-N.Y.), the first member of Congress to endorse President Donald Trump's presidential bid, was arrested on Wednesday and charged with securities fraud, NBC News reported.
According to ABC News, the charges stem from Collins' alleged insider trading in relation to securities of an Australian biotechnology company where Collins served as a board member.
The indictment could rock Capitol Hill, The Hill newspaper reported in June 2017 that Collins bragged about making members of Congress money via tips about the Australian biotech company.
"He said that he's made members money," an unnamed GOP lawmaker told the Hill at the time.
"Members of Congress?" a reporter asked in response. 
"Yeah, on his stock tip," the same unnamed lawmaker replied, according to the Hill.
Collins has been one of Trump's biggest defenders. RealClearPolitics wrote an article about his Trump support in May 2016, headlining the piece "Trump's man on the Hill."
"Many Republican leaders are struggling to come to terms with Donald Trump as their party's nominee: Some are declining to immediately endorse him, while others say outright that they won't support him and are searching for a third-party alternative to back this fall," RealClearPolitics wrote in the piece. "Not Rep. Chris Collins."
Since his inauguration, Collins has continued to defend Trump. During the tax reform debate, when his fellow New York GOP members of Congress were up in arms about a provision that would likely raise taxes on many New Yorkers, Collins voiced support for the plan.
Collins later caused the GOP problems when he said he voted for the bill because his donors told him to.
"My donors are basically saying, 'Get it done or don't ever call me again,'" Collins said during the tax reform debate, according to CNBC.