"Bernie doesn't know shit about politics": Progressive candidates tank in Tuesday races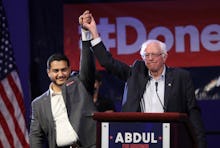 The Bernie Sanders wing of the Democratic Party has been riding high since Alexandria Ocasio-Cortez shocked the political world when she unseated a top-ranking House Democrat in a primary in late June.
That momentum sputtered Tuesday night, though, when candidates Sanders and Ocasio-Cortez endorsed and campaigned for lost primaries in a pair of Midwestern states.
Former state Sen. Gretchen Whitmer handily defeated Abdul El-Sayed, for whom Sanders and Ocasio-Cortez rallied in Detroit, in Michigan's Democratic gubernatorial primary. In a three-way race, Whitmer won 52% of the vote, an astonishing number in a primary field that size.
In Kansas' 3rd Congressional District, Sanders-backed Brent Welder lost to Democrat Sharice Davids, 37.3% to 33.9%, in a crowded Democratic field.
Like El-Sayed, Welder was bested by a woman candidate with an impressive story. A former MMA fighter, Davids could now become Kansas' first out gay congresswoman — and the first Native American in Congress.
Democratic strategists say Sanders-backed candidates aren't losing because of their politics, but because Sanders is endorsing men in a year when women candidates are dominating.
"In race after race after race, most candidates have pretty progressive stances," Tom Bowen, an Illinois-based Democratic strategist who worked on former President Barack Obama's 2008 campaign, said in an interview. "The dynamic is who Bernie is picking versus who the voters are picking, and he's just bad at this. The special factor of 2018 is not progressive versus moderate, it's women or not."
However, such losses aren't a sign progressive Democrats are failing to shift the party's message.
Nathan Gonzales, a nonpartisan political handicapper with Inside Elections, said progressive candidates are moving the needle of the party left — similar to how the Tea Party pushed Republicans to the right in the 2010 midterm elections.
"Just because those candidates didn't win doesn't mean that the progressive wing of the party doesn't have any influence," Gonzales said in an interview. "With the Tea Party, there weren't a ton of victories, but sort of the energy behind the movement and the threat of the movement, I think, influenced behavior from the party and other candidates."
Bowen agreed, saying Sanders' high-profile endorsements and rallies are setting up a narrative that discounts the fact establishment Democrats are adopting progressive policies.
"He elevates people to unrealistic expectations, and when they don't meet them this narrative develops that progressives suck and that's not the case," Bowen said, blaming the phenomenon on Sanders. "Bernie doesn't know shit about politics."