Paul Manafort funded his lavish lifestyle through decades of work for corrupt leaders and despots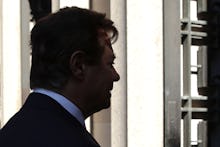 During the first trial of Paul Manafort, prosecutors have highlighted the former Trump campaign chairman's lavish lifestyle, which has been symbolized in court by the expensive — and eccentric — clothing that has gone from his closet to the evidence room.
Pinstriped suits, statement blazers, jackets made of ostrich and python — all from the swanky Beverly Hills clothier House of Bijan. Manafort's ostentatious lifestyle — which also reportedly includes pricy oriental rugs and expensive cars — has served as the physical manifestations of a lifestyle prosecutors say he maintained through illicit means.
But how did he obtain that lifestyle in the first place?
Because his indictments stemmed from Robert Mueller's Russia probe, which is examining the Trump team's possible involvement in the Kremlin's election interference in 2016, much of the focus has been on Manafort's work for pro-Russian interests in Ukraine.
But Manafort's foreign lobbying and political consulting wasn't exclusively on behalf of former Ukranian president Viktor Yanukovych and his Moscow-friendly Party of Regions; on the contrary, he spent decades doing shady international consulting, frequently working for corrupt and despotic leaders with records of human rights abuses.
"He played by his own rules in an industry where you usually got away with it," K. Riva Levinson, a former associate of Manafort, wrote in the Washington Post following his indictment in 2017. "In nearly a decade working for him, there was no place that Manafort would not send me."
After making his name as a cutthroat adviser in Republican politics in the late 1970s, Manafort established a pioneering Washington, D.C., firm with Roger Stone that offered both political consulting and lobbying services — what's known today as a "double-breasted" operation. The consulting arm of Black, Manafort, and Stone would help politicians rise to and maintain power; the other arm of the firm would lobby those same politicians on behalf of the corporate and foreign interests it also represented.
It was a unique model. The firm was also unique for Manafort's seeming disregard for pushing ethical boundaries, both in terms of his practices and the clients he'd represent.
Manafort registered to lobby for Saudi Arabia under the Foreign Agents Registration Act in 1984 — despite the fact that he was, at the time, serving on the Board of Directors of the Overseas Private Investment Corporation in Ronald Reagan's administration.
He sought to be exempted from the law prohibiting public officials from acting as agents of a foreign government, Bloomberg noted in July, but the Reagan administration refused to do so, and Manafort resigned from OPIC in 1986.
This kind of boundary-pushing also extended to the clients he and his firm took on, including despots.
In 1985, the firm took on what was then one of its biggest international jobs — inking a deal to improve the image of dictator Ferdinand Marcos in the Philippines.
Marcos led the Philippines with an iron fist for more than three decades, from the mid-1960s to the mid-1980s, imposing martial law in 1972 and presiding over brutal human rights abuses, including over 3,000 extrajudicial killings, 35,000 torture victims and 70,000 incarcerations of political opponents and others targeted by the regime.
Manafort's firm accepted $950,000 per year to work on behalf of the regime, according to a 1985 FARA filing.
Four years later, in 1989, Zaire dictator Mobutu Sese Seko hired the firm to improve his image. During his more-than-three-decade rule, he oversaw widespread human rights abuses, all while enriching himself and his allies.
"Mobutu may not have gravitated to the allies with the cleanest records," the Washington Post reported at the time, "but he sure knows how to pick people who can peddle their influence."
These were not isolated cases, but rather part of a pattern of the kinds of corrupt foreign leaders Manafort would work in service of. His work with regimes in Nigeria, Kenya and elsewhere made Manafort's one of the top five international lobbying firms, receiving the most money from what a Center for Public Integrity report in 1992 described as the "Torturers' Lobby."
All that seemingly laid the groundwork for the international work Manafort would become most infamous for: his involvement with Yanukovych and Ukraine's Party of Regions.
Manafort's work in the country began in 2004, after Yanukovych's victory in the country's chaotic election was overturned following widespread allegations of election fraud.
As with other dubious international figures, Manafort was hired to rehabilitate Yanukovych's image and help him make a comeback. The Party of Regions leader did just that in 2010, when he was elected president over Yulia Tymoshenko — one of the leaders of the Orange Revolution that successfully challenged the legitimacy of Yanukovych's win years earlier.
After Yanukovych's victory, the government prosecuted Tymoshenko and convicted her on charges of embezzlement and abuse of power in what the European Union condemned as the "persecution of political opponents."
Manafort apparently did not register as a foreign agent for his work in Ukraine, filing FARA forms related to the work retroactively in 2017.
Around the same time he began to repair Yanukovych's image, Manafort was also reportedly working with Oleg Deripaska — a Russian oligarch closely-linked to Vladimir Putin. With an investment from Deripaska, Manafort reportedly purchased a Ukrainian telecommunications company. He was also reportedly working for Deripaska to advance Russia's interests in Europe and the U.S.
But things would go downhill for Manafort in Ukraine.
He wound up millions of dollars in debt to Deripaska, and in 2014 Yanukovych was ousted after a presidency characterized by accusations of corruption and of crackdowns on political opponents, protesters and the press.
Manafort found himself depressed, possibly suicidal and with few business prospects in the wake of Yanukovych's downfall, as Franklin Foer described in his definitive history of Manafort published in the Atlantic in March.
It was under those circumstances that Manafort began working for Trump, whose campaign he would lead during the summer of 2016 until he resigned that August amid heavy scrutiny of his Ukraine work.
Manafort and his associate, Rick Gates, were the first to be indicted in the Mueller probe, with the two getting hit in October 2017 with a series of charges related to financial fraud and FARA violations.
Trump and the White House have argued that the charges have nothing to do with the president because the alleged crimes were committed "years ago," before he joined the campaign.
But this prologue is important — even if the charges Manafort is currently fighting are financial in nature and took place before he became Trump's campaign manager.
Manafort's well-documented dealings with dictators and other corrupt leaders and governments runs counter to Trump's campaign vow to only "hire the best people." What's more, his past has also raised significant questions about whether he was using his position on the Trump campaign to push Russian interests — or was vulnerable to doing so because of his deep debt to Deripaska, to whom he reportedly offered "private briefings" on the Trump campaign in 2016.
Russia has not directly figured into Manafort's current trial, which began July 31 in Alexandria, Virginia.
Instead, prosecutors have painted a portrait of a lavish lifestyle Manafort kept up via massive bank fraud and tax evasion, using Gates — his former associate — as their star witness.
The defense, meanwhile, has so far attempted to clear Manafort of the 32 counts of bank fraud and tax evasion he's facing by blaming the whole thing on Gates and attacking his credibility.
The trial is expected to wrap up next week. Manafort's second trial is set to begin in September.