Tamron Hall is making her big return to daytime TV — this time for her own show with Disney-ABC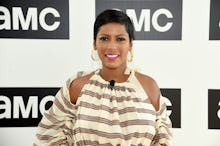 Former Today co-host Tamron Hall is coming back to daytime television. Deadline reported on Wednesday that Hall signed a deal with Disney-ABC and is working on developing a daytime talk show.
"I'm so thrilled to partner with Disney-ABC to create a daytime television show that's unconventional, fun, intimate and sometimes even raw," Hall said in a statement, according to Deadline. "My new partners appreciate and respect the relationship I've built with my audience and know that if we create television worth watching, they'll join us for the ride. I'm so grateful and excited for this next chapter. The landing makes the leap of faith so worth it."
The big news comes more than a year after Hall's abrupt — and somewhat dramatic — exit from NBC. Hall left her co-hosting gig at Today and her separate show on MSNBC in February 2017, after the news that NBC likely planned to replace Hall's 9 a.m. hour on Today, which she co-anchored with Al Roker, to make room for for Fox News Host Megyn Kelly, who had recently announced a move to NBC.
The details of Hall's abrupt departure seemed to suggest some behind-the-scenes discord, despite the polite public statements from both Hall and the network. Notably, Hall didn't get an onscreen goodbye from her fellow Today anchors, which one unnamed industry source told the Daily Beast at the time was "really weird."
"We both know that's not how these things are done when a beloved member of the family departs," the source said, of Hall's quiet exit. And the fact that it seemed as though NBC had bumped Roker and Hall, two black hosts, to make room for Kelly, led the National Association of Black Journalists to release a statement accusing the network of "whitewashing" its program.
Of course, the later revelations that Today anchor Matt Lauer stayed gainfully employed at the network despite allegations of sexual harassment, while Hall was seemingly edged out after years at NBC, makes the whole situation look even worse in retrospect.
In the Deadline report from Wednesday, Disney and ABC execs expressed their excitement to have Hall onboard for the new talkshow. "Tamron's wealth of experience and unique perspective is needed in today's daytime landscape," William Burton, the senior vice president of ABC Daytime, said. "We look forward to developing a daily destination showcasing her spirit, boundless enthusiasm and powerful ability to engage with viewers."