Movement Must-Reads: Transplaining sexual orientation and the police shooting of Desmond Phillips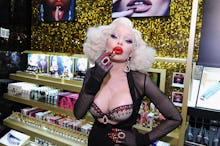 Stories about gender and identity are front and center in this week's Movement newsletter, including a video on the controversies around transgender athletes and the removal of a trans model from the cover of rapper Travis Scott's new album, Astroworld.
Pieces on the racial and gender pay gap facing black women and the shooting of a mentally-ill black man in Chico, California, in 2017, round out this edition. Read on for more.
From Mic:
Serena Daniari on the plight of transgender athletes in high school sports. Check out her full video segment on Mic Dispatch, our new Facebook Watch show.
Serena also has a new entry in her advice column Transplaining, where she addresses a question regarding the sexual orientation of cisgender men who are attracted to trans women.
Aaron Morrison on David Phillips, a black Chico, California, father whose son Desmond was killed by police during a mental health episode in 2017.
Natelegé Whaley on the racial and gender pay gap between black women and white men.
And Evan Ross Katz on the mysterious deletion of transgender model Amanda Lepore from the cover of Travis Scott's new album, Astroworld.
From elsewhere:
Mother Jones on how President Donald Trump's since-disbanded election integrity commission intended to claim it had found evidence of voter fraud before it had actually done so.
The Hollywood Reporter's dive into the making of Crazy Rich Asians, the first Hollywood film with a predominantly Asian cast since 1993's The Joy Luck Club.
And Topic's four-part short documentary about the predominantly black, and dangerously polluted steel town of Braddock, Pennsylvania.
That's all for now. Until next week.
— Zak Cheney-Rice, editor of The Movement