The Oscars will introduce a new category for "achievement in popular film"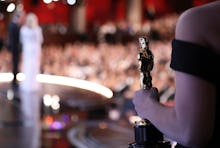 The Academy of Motion Picture Arts and Sciences announced a series of new changes to the Oscars on Wednesday, including "a more globally accessible, three-hour telecast," moving the date of the awards show up to Feb. 9 for 2020 and, perhaps most notably, "a new category ... designed around achievement in popular film."
The Academy made the announcement in a tweet on Wednesday. It's not yet clear what exactly the category for "popular film" will reward — but it could be an attempt on the part of the organization to pay some attention to the types of blockbuster films that are both critically acclaimed and wildly popular, like the Marvel mega-hit Black Panther — and to encourage its aging, still mostly white voting body to acknowledge a wider range of films.
It's long been a strange quirk — or possibly a point of pride for the Academy — that some of the prestige films the Oscars reward with best picture nominations are unpopular, at least according to their box office performance. Blockbuster hits occasionally win big — like in 2004, when The Lord of the Rings: The Return of the King won best picture — but it's often the case that the films in the best picture categories aren't the movies that everyone went to see on opening weekend.
The move might also be an attempt to boost viewership of the Oscars telecast. The 2018 Oscars earned record low ratings, as NPR reported in March — viewership dropped almost 20% from 2017. And it was the fourth year in a row that Oscar viewership fell.
But will changing the broadcast and adding a category that acknowledges "popular film" help boost the awards show's appeal and relevancy, or will it just further illustrate the frequent dissonance between the Academy's view of what makes a good movie and the actual good movies people love to watch? Some critics are already understandably skeptical. New York Times film critic Manohla Dargis tweeted about the news on Wednesday, saying "what a fucking stupid, insulting and pathetically desperate change."