Dascha Polanco gets real about body positivity and loving her curves in 'Women's Health'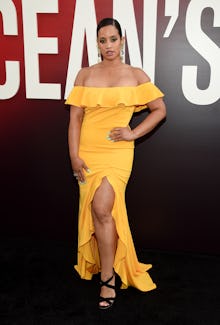 In an interview for the September issue of Women's Health, Orange Is The New Black actress Dascha Polanco unveiled her journey toward body positivity.
Although the hashtag #BodyPositive has more than 6.6 million posts on Instagram, Polanco confessed that achieving confidence in her curves wasn't as simple as posting a photo to social media.
"I remember looking at myself as a kid and knowing I was different than the other girls," the 35-year-old told Women's Health. "I was chubby and curvier and had rolls and thick thighs. ... In reality my body type was the norm, but I was always looking at it negatively and comparing myself to the super-slim 'cool girls.' I questioned my body — why couldn't it be like theirs? I just wanted to look like those girls."
Polanco said her negative self-image caused her to verbally insult herself, which in turn left her feeling guilty.
"I got to a point where I wished I could cut off my rolls with scissors," she added. "I would grab at my thighs and say, 'Ugh, I hate you, you're ugly, I don't like you! Oh my God, I just want to get rid of this!'" 
Polanco's view of her body began to evolve once she became a mother to her eldest child, Dasany Kristal Gonzalez.
"I wanted to instill in my kids self-acceptance and a sense of self-love," Polanco said. "I wanted them to know they're unique and that that's what makes them beautiful. I wanted them to be confident and I knew I had to model that."
Polanco now has a health and wellness routine that involves high-intensity interval training and meditation to help her stay physically and mentally fit. But the most important change she's made is being kinder about how she speaks to herself, she told Women's Health.
"Sometimes I still think, 'Ugh, these legs!'" she said. "When I see myself in a photo or on TV, I still pick myself apart. It's hard! But I choose to rise above and remind myself, 'Dascha, when you die this body goes back to Earth, so shine through and you'll be a light that will live forever.'"