The ACLU is suing Jeff Sessions over the Trump administration's asylum policies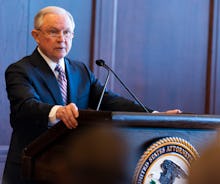 The American Civil Liberties Union and Center for Gender and Refugee Studies filed suit Tuesday in federal court in Washington, D.C., contesting the Trump administration's evisceration of protections for asylum seekers.
The lawsuit, Grace v. Sessions, specifically calls into question policies enacted by Attorney General Jeff Sessions in June that seek to ramp up deportations and expedite removal proceedings for immigrants.
Under the new rules, asylum officers are encouraged to categorize petitions citing credible "fears of domestic abuse or gang violence" as "personal circumstances," which do not automatically constitute eligibility for asylum.
"An alien may suffer threats and violence in a foreign country for any number of reasons relating to her social, economic, family or other personal circumstances," Sessions wrote in his decision. "Yet the asylum statute does not provide redress for all misfortune."
In a statement announcing the lawsuit Tuesday, the ACLU said the new policies run counter to "the fundamental human rights of women" and undermine legitimate claims of gang violence.
"This is a naked attempt by the Trump administration to eviscerate our country's asylum protections," Jennifer Chang Newell, a managing attorney with the ACLU's Immigrants' Rights Project, said. "It's clear the administration's goal is to deny and deport as many people as possible as quickly as possible."
Under current U.S. law, any individual who arrives in the country claiming asylum is administered what's known as a "credible fear" interview. If asylum officers deem their claims legitimate, they are removed from expedited deportation proceedings and granted a trial in immigration court.
But in recent weeks, legal aid workers and immigration lawyers have noticed their clients' credible fear interviews — for which the bar is typically set much lower than it would be for an asylum claim — are being rejected with alarming frequency.
Kat Russell, an immigration attorney at the Refugee and Immigrant Center for Education and Legal Services, described in an interview with Mic in June how a judge at a recent court proceeding affirmed her client's negative credible fear finding "in just a few minutes," a decision that appeared to have come from the top down.
"Honestly, it just seems to me that the judge had already made the decision by the time that he got to court that day," Russell said. "And I think he had already made that decision not just for my client, but for all of the clients."
The plaintiffs in Grace v. Sessions are women — all of whom are identified under pseudonyms to protect their identities — who faced extreme instances of sexual and physical violence in their home countries before seeking refuge in the U.S. The plaintiff for which the suit is named, Grace, told lawyers she fled her native Guatemala to escape a partner with gang affiliations who repeatedly beat and sexually assault her and her daughter.
Trump has long been transparent in his efforts to crack down on immigration — legal or otherwise — in the U.S., stretching back to his campaign promise to "build a wall" along the U.S.-Mexico border.
NBC News reported Monday that senior adviser Stephen Miller was finalizing the details of a new policy to make it easier for citizenship application officers to deny legal immigrants green cards if they or members of their household had ever used government benefits like the Supplemental Nutrition Assistance Program.
"The Trump administration is violating U.S. immigration law, international refugee law and our Constitution," Eunice Lee, co-legal director of the Center for Gender and Refugee Studies, said in a statement Tuesday. "It's putting the lives of our plaintiffs and thousands of asylum seekers in grave danger."