US to level new sanctions against Moscow over UK poisoning of former Russian double agent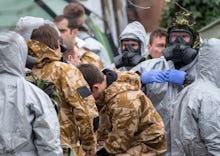 The United States will hit Russia with new sanctions in late August over the March poisoning of a former Kremlin double agent and his daughter in the United Kingdom, the Department of State announced Wednesday.
"[The U.S.] determined ... that the Government of the Russian Federation has used chemical or biological weapons in violation of international law or has used lethal chemical or biological weapons against its own nationals," State department spokesperson Heather Nauert said in a statement Wednesday afternoon. "Following a 15-day Congressional notification period, these sanctions will take effect upon publication of a notice in the Federal Register, expected on or around Aug. 22, 2018."
Sergei Skripal and his 33-year-old daughter, Yulia, were found unconscious on a park bench in a Salisbury, England, shopping mall in March in a suspected poisoning by the Russian government.
Skripal was a Kremlin intelligence officer who was convicted of spying for Britain and sentenced to 13 years in prison in 2006. He was released in 2010 as part of a spy exchange between the U.K. and Russia.
The chemical attack spiked tensions between Russia and the West, with the U.S. and Russia expelling diplomats from their respective countries. The U.K., which said Skripal and his daughter had been attacked with Novichok, a chemical nerve agent made in Russia and used by Russia for decades, booted 23 Russian diplomats from the country in the wake of the poisoning.
Skripal was released from the hospital in May and his daughter was released in April.
The sanctions Wednesday, which are expected to take effect in late August, would be the latest to be leveled against Russia by the U.S. The Treasury department hit Russia, including some members of Vladimir Putin's inner circle, with sanctions in both March and April over Moscow's interference in the U.S. election in 2016 and its other "malign activity around the globe."
Secretary of State Mike Pompeo also called out Russia on July 25 over its 2014 annexation of Crimea, saying in a statement that "Russia has acted in a manner unworthy of a great nation and has chosen to isolate itself from the international community."
Though Pompeo and others in the administration have pressed Russia, President Donald Trump has largely excused or dismissed Putin's behavior in public statements and has sought to build warmer relations between Washington and Moscow.
He has appeared personally reluctant to impose sanctions against Russia, blamed former President Barack Obama for Putin's invasion of Crimea and repeatedly raised doubts about the U.S. intelligence assessment that the Kremlin meddled in the 2016 election on his behalf.
He has also spoken warmly on a number of occasions of the Russian strongman, saying it would be a "good thing" for the two countries to have a better relationship.