Mic Daily: The ACLU is suing Jeff Sessions, the Oscars introduce a new category and more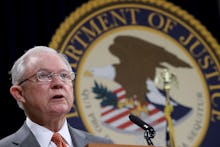 Welcome to Mic Daily: Mic's newsletter that cuts through the noise and lands in your inbox every weekday. We carefully curate each edition to send you a cross section of our most vital stories of the day. Want to receive this as a daily email in your inbox? Subscribe here.
Want more entertainment news in your inbox instead? Sign up for Hype Daily — Mic's morning entertainment roundup. It's got all the news you need to start your day.
The American Civil Liberties Union and Center for Gender and Refugee Studies filed suit Tuesday in federal court in Washington, D.C., contesting the Trump administration's evisceration of protections for asylum seekers.
The lawsuit, Grace v. Sessions, specifically calls into question policies enacted by Attorney General Jeff Sessions in June that seek to ramp up deportations and expedite removal proceedings for immigrants.
The Academy of Motion Picture Arts and Sciences announced a series of new changes to the Oscars on Wednesday, including "a more globally accessible, three-hour telecast," moving the date of the awards show up to Feb. 9 for 2020 and, perhaps most notably, "a new category ... designed around achievement in popular film."
In a sharp rebuke of anti-labor policies, Missouri residents on Tuesday overwhelmingly voted down Proposition A, a ballot question that would have prohibited private-sector workers from being forced to pay union dues.
The global hand sanitizer market was worth $919 million in 2016. But dousing our hands in these alcohol-based products may not be as effective as we think, according to a new study published in the journal Science Translational Medicine.
In 2004, Dion Drew was sentenced to four years in prison for selling drugs. "Everyone was doing it in my neighborhood," Drew said in a phone interview. "I did it to help my mom because she couldn't support my brothers. But when I came home, I decided I wanted a better life. I immediately looked for work, but no one would give me the opportunity — everybody was talking about my past."
Eventually, Drew got a job at Greyston — and he's been there for nearly a decade.