Today in Trump's America: Rep. Devin Nunes admits to trying to protect Trump from legal jeopardy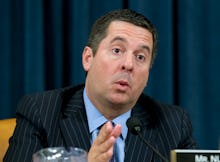 Welcome to Mic's daily read on Donald Trump's America. Want to receive this as a daily email in your inbox? Subscribe here.
Good morning from Emily Singer at Mic.
Check out Mic Dispatch, Mic's new show reporting on the problem-solvers and the provocateurs in our changing world. Subscribe here for alerts on new episodes airing Tuesdays and Thursdays, 8 p.m. Eastern, on Facebook Watch.
Here's what's happening in Trump's America:
• Trump remains in Bedminster, New Jersey, at his golf club, where he's on an 11-day vacation.
About last night: Rep. Devin Nunes admits to trying to protect Trump from legal jeopardy
Rep. Devin Nunes (R-Calif.) was caught on tape at a July 30 fundraiser admitting that so-called "collusion" is a crime, and that he and Republican members of Congress are trying to protect Trump from legal jeopardy arising from special counsel Robert Mueller's probe.
RELATED: The secret Rep. Nunes recording confirms what we already knew about his efforts to protect Trump
"If Sessions won't un-recuse and Mueller won't clear the president, we're the only ones — which is really the danger. That's why I keep, and thank you for saying it by the way, I mean, we have to keep all these seats," Nunes is heard saying, referencing the 2018 midterm elections, in the audio obtained by MSNBC's Rachel Maddow Show.
Nunes is later heard saying that it would in fact be a crime if the Trump campaign received stolen information from a foreign government and then released it to the public. Nunes used a hypothetical example of Rep. Cathy McMorris Rodgers — a Republican member of Congress from Washington state, where the fundraiser Nunes was speaking at was being held — receiving stolen emails from Portugal.
"But ultimately let's say the Portuguese came and brought her some stolen emails. And she decided to release those. Okay, now we have a problem, right?" Nunes says on the audio. "Because somebody stole the emails, gave 'em to Cathy, Cathy released 'em. Well, if that's the case, then that's criminal."
Mueller has not released any evidence tying Trump campaign officials to the release of Democratic emails that were stolen by Russian hackers.
But Mueller's probe continues. And Trump's legal team continues to refuse to sit down with his investigators for an interview, objecting to subject matter questions on obstruction of justice, the New York Times reported on Wednesday.
The back and forth between Trump and Mueller's teams regarding an interview has been going on for months, leading to questions about whether Mueller will ultimately subpoena Trump for an interview.
Trump's lawyer Rudy Giuliani admitted on Wednesday that president's legal team is dragging out the investigation for political gain.
"When I first got involved, I would have told you not testifying would be the right legal strategy but then hurt politically," Giuliani told CNN. "Now I'm thinking the continuance of the investigation would actually help because people are getting tired of it, and [the President] needs something to energize his voters because the Democrats look like they're energized. Nothing would energize [Republicans] more than, 'Let's save the President.' "
Today in Trump's America: Manafort trial begins Day 8
Trump's former campaign chairman Paul Manafort's trial in federal court in Alexandria, Virginia, resumes at 9:30 Thursday morning.
Prosecutors have eight more witnesses on their list, and told the judge overseeing the trial that they plan to wrap their case as early as Thursday, Politico reported.
The prosecution's star witness, Rick Gates, completed his testimony on Wednesday, in which he laid out the crimes he said he and Manafort committed together throughout the years.
Manafort's defense team — which is trying to convince a jury that Gates was the mastermind and Manafort was merely a victim of Gates' actions — tried to impugn Gates' character, depicting him as a liar who had multiple affairs.
Ultimately, it will be up to the jury to decide whether the paper trail of evidence laying out Manafort's alleged crimes — and Gates' corroboration of those documents — is enough to convict Manafort of any or all of the 32 counts of bank fraud and tax evasion he faces.
Capitol Hill happenings: Republican member of Congress indicted on securities fraud charges
Republicans sure are giving Democrats a lot of ammunition to make a case that the Trump administration and its defenders aren't "draining the swamp" as the promised, but rather are knee deep in the muck, engaged in brazen acts of grift, corruption and lawbreaking.
On Wednesday, federal prosecutors in New York unsealed an indictment against Rep. Chris Collins (R-N.Y.) — the first member of Congress to endorse Trump's candidacy in 2016 — that accuses Collins of securities fraud.
Collins is accused of brazenly giving non-public information he received because he was a member of the board of an Australian pharmaceutical to his son, in order to ensure that his son did not lose hundreds of thousands of dollars on that company's stock. Collins' son, Cameron Collins, was also indicted, as he is accused of using that information to ensure his girlfriend and her family did not lose money on the stock.
Collins is also accused of lying to federal investigators when he was interviewed about the securities fraud case.
Prosecutors allege that Collins' insider trading was so brazen that he made the call giving his son the non-public information from the White House lawn, where he was attending the annual congressional picnic.
CBS News uncovered video from that picnic that shows Collins on the phone at the very same time prosecutors allege he was giving his son the information he later used to improperly trade on.
Collins is now the latest person in Trump's orbit to be nabbed by the feds. Manafort is currently on trial for bank fraud and tax evasion. Gates, who also worked on the Trump campaign and later at the Republican National Committee, pleaded guilty to one count of conspiracy against the United States and lying to federal investigators.
Gen. Michael Flynn, a fixture on the Trump campaign who Trump brought on to be his national security adviser, also pleaded guilty in December to lying to the FBI and agreed to cooperate with special counsel Robert Mueller's probe.
George Papadopoulos, a former foreign policy adviser on the Trump campaign, pleaded guilty in October to lying to the FBI about his Russia ties and agreed to cooperate with Mueller's probe.
And the rest…
Reporters given bodyguards at Trump rallies: Trump's anti-media rhetoric has caused television networks to give their correspondents bodyguards when they attend Trump rallies, Politico reported.