2018 is shaping up to be a historic year for Native American women at the ballot box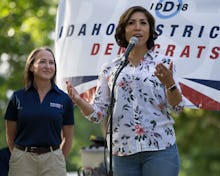 Native American women are having a banner year in the 2018 midterm elections, with three Native American women defeating crowded Democratic primary fields to become their party's nominee in a handful of House and gubernatorial contests.
Each have varying odds of winning their general elections come November, with one candidate nearly guaranteed to make it to Congress and make history as the first Native American woman in the House of Representatives.
The spike in the number of Native American women running for office — and winning their primaries — comes as Native American people have found themselves being mocked by President Donald Trump and seeing their land rights infringed upon in places like the Standing Rock Indian Reservation.
Here's a look at the three potentially history-making candidates.
Deb Haaland, New Mexico's 1st District
Haaland is poised to make history as the first Native American woman in Congress.
She defeated a crowded primary field in June to become the Democratic nominee in New Mexico's 1st District — a heavily Democratic seat in and around Albuquerque. The seat is vacant due to Democratic Rep. Michelle Lujan Grisham's bid for governor.
Haaland is a member of the Pueblo of Laguna tribe and has been an active member in the Democratic Party for years. She worked on former President Barack Obama's 2008 presidential campaign and served as chair of the New Mexico Democratic Party.
Given Hillary Clinton carried this district by a 17-point margin in 2016, Haaland is unlikely to face a competitive race in the general election and will likely be the next member of Congress from this district.
Sharice Davids, Kansas' 3rd District
Davids is yet another potentially history-making candidate who could mark several firsts for Congress and her home state of Kansas.
As a member of the Ho-Chunk Nation, she would break history alongside Haaland as the first Native American women elected to Congress. As an out lesbian, Davids would also be her state's first LGBTQ member of Congress.
She would also hold the title as the first former professional MMA fighter in Congress, according to the New York Times.
Davids emerged victorious from a crowded primary field Tuesday, beating a well-funded candidate in Brent Welders, who had the backing of Sen. Bernie Sanders (I-Vt.).
She will now face off with GOP Rep. Kevin Yoder in this suburban Kansas City district Clinton carried by a slim one-point margin in 2016.
After her victory, the nonpartisan Cook Political Report designated the race a toss-up, meaning Davids has a legitimate chance of defeating Yoder.
Paulette Jordan, Idaho governor
As a member of the Coeur d'Alene tribe, Paulette Jordan would be the first governor in U.S. history from a Native American tribe.
Jordan won a Democratic primary for governor in Idaho back in May, defeating businessman A.J. Balukoff, who had unsuccessfully run for governor in 2014.
She faces the toughest odds of the three Native American women candidates, as she's running in a state President Donald Trump won with 59% of the vote.
However, Democrats in Idaho are hoping a Medicaid expansion ballot initiative will help drive Democratic turnout and possibly help Jordan's bid.