Twitter CEO justifies Alex Jones' presence on social media site in Sean Hannity interview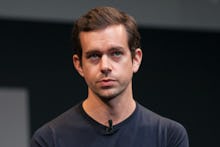 Tech companies like Apple, Google and Facebook are taking down pages belonging to InfoWars host Alex Jones, but Twitter isn't. Jones' show InfoWars is known for posting conspiracy theories. The show, for example has famously spread misinformation about the Sandy Hook school shooting, claiming it never happened.
In an interview with Sean Hannity Wednesday, Twitter CEO Jack Dorsey explained why his social media platform isn't censoring the host. Dorsey noted his fear of Twitter slipping into censorship, and noted that Jones has yet to violate Twitter's terms.
"We do believe in the power of free expression, but we also need to balance that with the fact that bad-faith actors intentionally try to silence other voices," Dorsey said.
Following the news of other services banning the host, Dorsey tweeted, "We didn't suspend Alex Jones or Infowars yesterday. We know that's hard for many but the reason is simple: he hasn't violated our rules."
Not everyone agrees with Dorsey's decision. Many have questioned the platform's choice to let Jones continue to have a voice on the site, citing that his views have manifested into actual harm.
Twitter isn't the only company keeping Jones on their platform. Apple, despite removing most of Jones' podcasts from its directory, has left Jones's content on their app store. As for why, the company, similarly to Twitter, cited that Jones had not gone against the terms of their app store.
"We strongly support all points of view being represented on the App Store, as long as the apps are respectful to users with differing opinions, and follow our clear guidelines, ensuring the App Store is a safe marketplace for all," Apple told Buzzfeed News in a statement.
Listen to the full interview between Twitter's Jack Dorsey and Sean Hannity here.