Parkland gunman Nikolas Cruz gives haunting confession in newly released video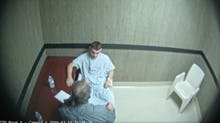 In police interrogation footage released Wednesday by the Florida State Attorney's Office, Nikolas Cruz confesses to shooting and killing 17 students and faculty members at his Parkland, Florida, high school.
In the video, the 19-year-old Cruz, who is in shackles, admits to the Valentine's Day shooting at Marjory Stoneman Douglas High School, while exhibiting what appears to be a perilous mental state. He is seen repeatedly punching himself in the head and crying as he mutters, "Just fucking kill me."
The video comes two days after the release of a partial audio transcript of the interview, in which Cruz can be heard saying he regularly heard the voice of a "demon" in his head that instructed him to "Burn. Kill. Destroy."
At another point in the footage, Cruz's younger brother, Zachary, enters the interrogation room and informs him that people "think you're a monster now," to which Cruz laughs in response.
"You're only 19, dude," Zachary tells his brother. "You know how many years you had ahead of you? You know how many years you had? Years? You're stuck — you're still stuck in your teenage mindset and you did this dumb shit. You're not thinking about your future."
The brothers reportedly had a fraught relationship growing up, ever since their their late mother, Lynda, adopted them from the same birth mother as infants. Although Zachary is younger by one year, he reportedly tormented and bullied Nikolas to the point where the older brother slept with scissors and knives in his bed, the Sun-Sentinel reported.
Nikolas Cruz also had significant developmental delays growing up, which an independent consultant hired by Broward County recently found to have been inadequately addressed by the school district. In spite of his lengthy disciplinary history, problems at school and other red flags that the FBI has since admitted to having been warned about ahead of time, Cruz was still able to legally purchase the AR-15 he used to commit one of the deadliest school shootings in U.S. history.
In March, a grand jury indicted Cruz on 17 counts of premeditated murder. Although defense attorneys offered to enter a guilty plea for Cruz in exchange for a life sentence in prison, Broward County prosecutors have said they plan to seek the death penalty if he is convicted.