When can you get money back from airlines? These are the only times compensation is guaranteed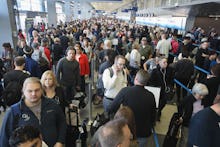 According to a recent survey by AirHelp, fewer than 10% of people know their rights as passengers on airlines — and astoundingly, over $6 billion in compensation for disrupted flights, as in delays or cancellations, is left unclaimed worldwide.
"People get really frustrated when they're standing at the airport and a flight's delayed or late. It can drive you up the wall," Brett Snyder, president of Cranky Concierge, said in a phone interview.
"But airlines will say you generally can't request compensation until you're done with travel, when they can evaluate and make a decision," Snyder said. "By that time, a lot of the frustration fades and people don't want to deal with it any further."
Unfortunately, the truth is no matter how long you've camped out at a gate, there are no federal requirements that dictate how much passengers should be compensated for matters like delays or cancellations, according to the Department of Transportation website.
Instead, compensation for delayed or canceled flights is often determined on individual airlines' websites in "contracts of carriages," Snyder said, which are agreements that tend to be dense and particularly consumer-unfriendly.
"I've spoken to attorneys who can't even understand them," William J. McGee, an airline expert, said over the phone. "The language is intentionally ambiguous and written in such a way that you don't even understand your own rights."
While rules vary from airline to airline, we spoke to travel experts about the very few instances in which you are guaranteed to get compensation for your flight issues.
Your bag is lost, delayed or damaged
According to the Department of Transportation website, all passengers are entitled to compensation from airlines if their bag is found damaged, delayed or lost.
However, McGee said the rules surrounding particular dollar amounts largely depends on the airline. But here's what you should know: all airlines are federally able to compensate passengers for these baggage problems at a minimum of $3,500 per passenger on domestic flights and $1,536 per passenger on most international flights, so if you have an issue with your bag, know in advance what you're entitled to.
It's not the easiest process, though. Many airlines like American Airlines recommend filing a report before you even leave the airport and can reject claims if not reported "in time," which includes 24 hours for damaged bags and four hours for delayed bags.
But if you are concerned about losing a particularly valuable bag, many airlines offer what is called "excess valuation." By purchasing this at check-in, an airline is required to pay over and above an airline's standard liability fee. Both United and Alaska Airlines charge $1 for every $100 in additional value. Lose a bag? Both Alaska and United will reimburse you up to $5,000.
You decide to cancel your flight within 24 hours of booking
In 2012, the Department of Transportation enacted legislation that would allow all passengers to cancel flights within 24 hours, without penalties. However, the flight must be booked seven days ahead of the scheduled departure, and must either originate or arrive in the U.S., though many international airline carriers, like All Nippon Airways and Lufthansa, also have similar rules in place.
If your flight is canceled by the airline, there is no federal legislation that dictates whether you should be compensated or even refunded, according to the Department of Transportation.
"Airlines don't guarantee their schedules, and you should realize this when planning your trip," according to the Department of Transportation website. This hardly sounds assuring, but it's common for many airlines to rebook you or offer a partial or full refund.
If you're still worried, major airlines offer travel insurance, which can help safeguard you in the event of the dreaded canceled flight, Snyder said.
And here's something else you should know if you purchase your flight on a credit card, McGee said.
"Not that many people use cash these days," he said. "But according to the Fair Credit Billing Act, if you use a credit card and the product is not delivered or provided to you, you're entitled to get a full refund through your credit card company — in other words, if you use Visa to get a flight on Delta and that flight is cancelled, let Visa know and they'll give you a refund after an investigation."
You're flying through Europe
Unlike the U.S., the European Union has its own passenger bill of rights that protects travelers, McGee said. These rights explicitly state air passenger rights to compensation in situations like delays, denied boarding and being downgraded to another seat.
For instances like a delay by more than three hours, you're entitled up to 600 euros.
You don't have to be an E.U. citizen to earn the privilege. Americans are covered if they are on a flight from the E.U., or on a flight to the E.U. on an E.U. carrier, Henrik Zillmer, CEO of AirHelp, said in an email.
"It's also important to note that air passengers may be able to claim compensation up to three years after their flight was originally disrupted," he said. "So travelers should check their eligibility for flight disruptions they experienced."
You're involuntarily bumped — but only in some cases
If you're involuntarily bumped from an oversold flight, you are entitled to compensation, Snyder said. According to the Department of Transportation website, this reimbursement is known as "denied boarding compensation" and based on the price of your ticket, the length of delay and whether their flight is a domestic international flight.
In the instance that your newly assigned flight gets you to your final destination between one and two hours of your original arrival time on domestic flights, or one to four hours on international flights, you are entitled to 200% of your original fare, set at a maximum of $675. In a delay over two hours on a domestic flight or four hours on an international flight, you're entitled to 400% of your fare with a limit of $1,350.
But it comes with a few of caveats: If you're involuntarily bumped due to matters such as an aircraft change, flights departing from an international location, or "weight and balance" issue for a flight, you aren't entitled to money.
Oh, and if you're flying JetBlue, the carrier's contract of carriage specifically offers $1,350 in compensation for involuntary bumping.
When all else fails, use a service
Contracts of carriage are often indecipherable, which might explain why only 10% of those in the recent survey are aware of their rights.
When all else fails, and you're left on the phone for hours on end trying to receive a refund, there are several services — including AirHelp and Cranky Concierge — that will do all the heavy lifting for you.