Laura Gómez of 'OITNB' says that painful finale for Blanca "gave me goosebumps"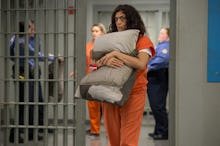 When Laura Gómez first auditioned for the role of Blanca Flores in Orange Is the New Black, the show's creators were worried she wasn't ugly enough to play the character, who has a nest of unkempt hair and questionable hygiene. Gómez had to convince the casting director she could be as ugly as she needed to be. She got the role, and Blanca, with her signature unibrow, went from being a running joke in season one to a full-fledged lead role in season six, which Netflix released in full July 27.
Blanca may have started as the Dominican inmate who ranted in the bathroom. But over the subsequent seasons, she deepened into a well-rounded character, no small thanks to Gómez's powerful performance. Flashbacks in the fourth season revealed Blanca once worked for an elderly racist woman — that's how she met her sweet boyfriend on the outside, Diablo.
Season six sees Blanca moved to maximum security prison along with a handful of other inmates. At this point, all Blanca wants is to have a baby with Diablo, so in one of the season's lighter subplots, she devises a plan to smuggle in his sperm.
At the season's end, she finds out she's getting an early release, which means freedom and a reunion with her beloved Diablo — but in the last moments of the season finale, we see Blanca leave prison only to be taken into Immigrations and Customs Enforcement custody. As Blanca is being herded onto another bus, we see Linda, an executive at the show's private prison company, excitedly explaining how their newest business venture will be immigration detention facilities. It's a gut-punch of a reveal, even for a show known for heartbreaking season finales.
Laura Gómez chatted with Mic on Wednesday about playing Blanca, the difficulties of portraying a woman completely at the whims of a heartless system and what needs to change in terms of Latinx representation in Hollywood.
(Editor's note: This interview has been edited and condensed for clarity.)
Mic: Let's talk a little bit about how much Blanca has deepened as a character since season one. How much did you know about her when you were cast?
Laura Gómez: Oh my god, absolutely nothing. It's been a big surprise for me in the best possible way. When I auditioned for Blanca, Blanca was kind of a side character, almost a caricature. In fact, during the audition, I don't think that the character had any name. It was only the description of "crazy Dominican woman with cellphone," you know, who talks to the devil.
So at the beginning, honestly, I thought it would be a gig that would last maybe two, three episodes. And I wasn't sure that I was gonna get it, because at the time [casting director] Jen Euston thought I might be too pretty for the role. And I said, "I can be ugly!"
So it started from that point, of being this character who wasn't really described as someone who was well-adjusted into society. ... On the first day on set, one of our directors on the show, Michael Trim, told me, "[Blanca] might not be as crazy as you think." Which wasn't much help either, because I'm like, "What does that mean?" But he just told me to play it halfway because they weren't sure themselves what the character was going to evolve to be. I don't think anybody would have envisioned that Blanca would evolve into this character that is almost a revolutionary role, in many ways.
What was it like when you first found out about what happens to Blanca in the season six finale?
LG: I didn't know where we were heading at all. I had read already the portion where technically I was getting out of jail. I wasn't sure what that meant. I figured, knowing our writers, something was going to happen. But not in my wildest dreams could I have imagined that it would be this relevant. Because also, obviously, the timeline of the show shifted a little. There were some liberties to make it more relevant to what's happening right now. But it wasn't really on real time.
If you think about, when we were shooting this, the whole situation wasn't so out in the open, with all these deportations happening in our faces, the way that they are happening in such an inhumane way. When I read the episode, when I saw that, of course ICE was already on the news and it was a topic, but not to this degree. It gave me goosebumps, and I told the writer of that episode, Brian Chamberlayne, "You're killing me."
It was heartbreaking. It felt very relevant. It felt urgent and important to me, and it gave me the inner strength to play the character from the reality that's surrounding me anyway. It was around us in a way that felt so urgent.
Did you feel a sense of responsibility in telling this story? This is happening in our real world, to real people who might not have a voice or a platform. Did that weigh on you?
LG: I felt lucky, to be honest with you. I felt lucky to be able to be part of a show that's bringing these topics to the table. And then to portray this character has been a gift as an actor, because I get to transform myself, but also I get to realize there are no small parts. Because some character that has two lines or barely any presence in the first season can come and evolve into another level later on.
And then to have this storyline, being told through this character, felt like an opportunity. Yes, to be a part of this conversation, and also yes, to carry responsibility for so many people, especially now [with] Latino immigrants going through this, and knowing this reality and being surrounded by it and having friends and family who are under the threat of the situation. This inhumane situation that does not take into consideration a person's circumstances or history or anything like that. So yes, it felt [like] more than a sense of responsibility, it felt like a great gift.
Maybe you can't tell me this, but will we see Blanca again? Will we get to find out what happens to her?
LG: We will see Blanca. People are freaking out! I can just say we will see some of Blanca, I don't know exactly what decisions they're making in terms of what they're going to let us know about the next step. We were left on a cliffhanger when it comes to that. Just like the audience, can only guess.
[Judging] by the work of Linda from purchasing and her excitement presenting detention centers for immigrants, which she's selling like it's some nail salon product... It's such a light thing for her, capitalism as always, even though you're dealing with human lives. I figure that our writers are going to somewhat explore in that direction. But I can't promise that's gonna happen, I can only guess.
It feels so alarming and relevant.
LG: That scene, where Linda's presenting [the detention centers], it just gave me goosebumps. It shows how disconnected some groups of people are and how privileged some people are. They just thrive in their privilege but they dehumanize others based on their privilege.
What has the experience been like for you working on Orange Is the New Black, when there are so few shows with a majority female cast that is also so diverse? Has it been a positive journey for you?
LG: Absolutely. For me it's been such a privilege in so many ways. Because it's a show that's defying the rules of the game, in many ways. You have a show written and created by a woman and by women mostly. You have so many women behind the scenes and in front of the camera, which is what we have been advocating for.
So to be a part of this, but also get to play these incredibly well-fleshed individuals who — even though they're in prison, which is a little bit stereotypical — you get to see their humanity, which [is] exactly what makes them non-stereotypical. So I feel I'm part of something that's just way beyond simply a television show. It's been a great experience overall and I'm really grateful for it.
I want to ask you more generally about Latinx representation in Hollywood, which is still really lacking even with great shows like Vida and One Day at a Time. What do you think can be done to raise up more Latinx voices in the industry?
LG: I think it's mandatory that we have more people of color making decisions behind the scenes. We need [to have] not just white males in suits making decisions. As open-minded as some may be — and some may not be — it's still limiting. How can they think of what women women want, or what people of color want, or what they need or what they crave or what they would respond to? It has to be more democratic.
And I feel like as much as I am very grateful for this show and very grateful for the opportunity of being a part of this conversation, I know for a fact that as long as we don't have women and people of color in decision-making roles, we're still going to be limited in terms of what we see in front of our cameras or how we are portrayed. I may be portraying the same character over and over. "Oh great, women in prison, that sells. Let's do it again."
What about a Dominican woman who's not in prison, who has other circumstances? What about an account executive in an advertising agency who happens to be Dominican and is not defined by it? Things like that I always advocate for. And I think that only when you have people [who] understand where you're coming from can those things happen. I think that's one of the things that needs to change.