Mary Golda Ross, credited as first female Native American engineer, is honored in Google Doodle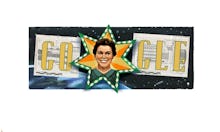 Mary Golda Ross (1908-2008) was the first known Native American woman engineer. Aug. 9, 2018, would have been her 110th birthday. On Thursday, Google marked the date with a custom Doodle on its homepage, honoring the mathematician and aerospace engineer's pioneering legacy.
Ross had myriad accomplishments. Born in Park Hill, Oklahoma, to William Wallace and Mary Henrietta Moore Ross, she was the great-great granddaughter of John Ross, a principal chief of the Cherokee Nation. Ross taught high school math and science for nine years, and after earning her masters degree, went to work for Lockheed Martin in 1942 during the Second World War.
While at Lockheed, Ross received professional certification in aeronautical engineering. She was later selected to join the think tank Skunk Works — whose inaugural team worked on the United States military's first jet fighter — and was the only Native American of the group's 40 members. (Ross was also the only woman at the organization, besides the secretary.)
Ross also dabbled in engineering for interplanetary travel while at Skunk Works, co-authoring NASA's Planetary Flight Handbook and doing analysis work around fly-bys of Mars.
Ross retired from engineering in 1973, but remained active as an advocate. She worked on developing more women and Native engineers through groups like the Society of Women Engineers, the American Indian Science and Engineering Society and the Council of Energy Resource Tribes, and has donated more than $400,000 to the Smithsonian's National Museum of the American Indian.
Check out Google's Doodle page for Ross here.