Children found on New Mexico compound were being trained to commit school shootings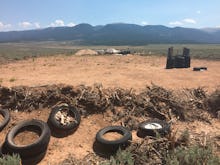 Authorities who raided a New Mexico compound Friday have determined at least one of the 11 emaciated children they recovered there was being trained by adults to commit "future school shootings."
According to court documents filed Wednesday, prosecutors believe the five adult suspects arrested on the fetid compound were abusing the children, who range in age from 1 to 15. One of the children reportedly told a foster parent the adults had "trained [them] in the use of an assault rifle in preparation for future school shootings," according to CNN.
In an interview with the Santa Fe New Mexican, Taos County Sheriff Jerry Hogrefe said the suspects — Lucas Morten, Jany Leveille, Siraj Wahhaj and his two sisters, Hujrah Wahhaj and Subhannah Wahhaj — were "considered extremist of the Muslim belief."
Police initially began looking into the compound as part of an investigation into one of the suspects, Siraj Wahhaj, who is suspected of abducting his then-3-year-old son from a home in Jonesboro, Georgia, in November. Although the boy was not among the 11 children rescued Friday, authorities have confirmed the unidentified remains of a young boy were discovered on the property during the raid.
While the compound, located near the town of Amalia, New Mexico, had caught the eye of both local law enforcement and the FBI — which had noted the property appeared to be equipped with a shooting range — authorities did not believe they had just cause for a full investigation. However, law enforcement officials were later granted a search warrant after they received a chilling message that appeared to come from someone living on the compound: "We are starving and need food and water."
"I began working on a search warrant right after I got that intercepted message," Hogrefe said in a separate statement. "It had to be a search warrant and a tactical approach for our own safety because we had learned the occupants were most likely heavily armed."
In court documents, prosecutors said they believe the defendants brought the children to New Mexico to receive "advanced weapons training." They asked a judge to hold the suspects without bail.