In his first interview in a year, Casey Affleck discusses past allegations against him: "I'm sorry."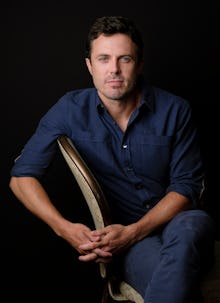 Actor Casey Affleck seemed to duck out of public view for the past year — the Manchester By The Sea star sat out the most recent Academy Awards amid public resistance to his presence at the show due to sexual harassment allegations. But Affleck just granted his first interview in a year, speaking to the Associated Press in an interview published Thursday.
Affleck discussed his upcoming film, The Old Man & The Gun, out in September, but also answered questions about the #MeToo movement and those allegations of sexual harassment. He slightly evaded offering the reasons for his decision to withdraw from presenting at the Oscars, telling the AP that "it was the right thing to do just given everything that was going on in our culture at the moment," but he seemed prepared to discuss the harassment allegations and the two separate lawsuits he settled in 2010.
"I wish I had found a way to resolve things in a different way," Affleck said. "I hate that. I had never had any complaints like that made about me before in my life and it was really embarrassing and I didn't know how to handle it and I didn't agree with everything, the way I was being described, and the things that were said about me, but I wanted to try to make it right, so we made it right in the way that was asked at the time. And we all agreed to just try to put it behind us and move on with our lives, which I think we deserve to do, and I want to respect them as they've respected me and my privacy. And that's that."
The suits were brought by cinematographer Magdalena Górka and producer Amanda White, who worked with Affleck on the set of the mockumentary I'm Still Here. Both women alleged that Affleck harassed them on set, including one incident during which the cast and crew were sharing an apartment and Górka allegedly woke up in the middle of the night to find Affleck "curled up next to her in the bed" wearing a T-shirt and underwear.
Affleck described his on-set behavior as "unprofessional" to the AP, saying, "I kind of moved from a place of being defensive to one of a more mature point of view, trying to find my own culpability. And once I did that I discovered there was a lot to learn. I was a boss. I was one of the producers on the set ... And I contributed to that unprofessional environment and I tolerated that kind of behavior from other people and I wish that I hadn't. And I regret a lot of that. I really did not know what I was responsible for as the boss. I don't even know if I thought of myself as the boss. But I behaved in a way and allowed others to behave in a way that was really unprofessional. And I'm sorry."
Affleck praised women within the industry for speaking out against harassment, telling the AP, "Those are the people who are kind of leading this conversation and should be leading the conversation." He added that he now "knows" he should "keep my mouth shut and listen and try to figure out what's going on and be a supporter and a follower in the little, teeny tiny ways that I can." And, Affleck added, "If I'm ever called upon by anyone to help in any way and contribute, I'd be more than happy to."