Mic Daily: Twitter CEO Jack Dorsey defends Alex Jones' page, Casey Affleck apologizes and more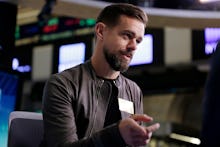 Welcome to Mic Daily: Mic's newsletter that cuts through the noise and lands in your inbox every weekday. We carefully curate each edition to send you a cross section of our most vital stories of the day. Want to receive this as a daily email in your inbox? Subscribe here.
Check out Mic Dispatch, Mic's new show reporting on the problem-solvers and the provocateurs in our changing world. Subscribe here for alerts on new episodes airing Tuesdays and Thursdays, 8 p.m. Eastern, on Facebook Watch.
Authorities who raided a New Mexico compound Friday have determined at least one of the 11 emaciated children they recovered there was being trained by adults to commit "future school shootings."
Tech companies like Apple, Google and Facebook are taking down pages belonging to InfoWars host Alex Jones, but Twitter isn't. Jones' show is known for posting conspiracy theories — for example, it infamously spread misinformation about the Sandy Hook school shooting, claiming it never happened.
Native American women are having a banner year in the 2018 midterm elections, with three Native American women defeating crowded Democratic primary fields to become their party's nominee in a handful of House and gubernatorial contests.
Rep. Devin Nunes (R-Calif.), chair of the House Intelligence Committee, suggested during a private fundraiser July 30 that he and other Republicans are "the only ones" who can protect President Donald Trump from legal peril, according to a secret recording obtained by the Rachel Maddow Show.
Actor Casey Affleck seemed to duck out of public view for the past year — the Manchester By the Sea star skipped the 2018 Academy Awards amid public backlash over the sexual harassment allegations leveled at the Oscar winner. But Affleck just granted his first interview in a year, speaking to the Associated Press in an interview published Thursday.