Hype Daily: 'Insecure' is back, the Idris Elba as James Bond rumors are starting up again and more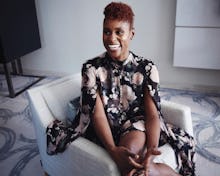 Welcome to Hype Daily, Mic's morning entertainment roundup. Here's everything you need to catch up on in the entertainment world and what to look forward to today. Want to receive this as a daily email in your inbox? Subscribe here.
Good morning from Hype reporter Anna Swartz.
Netflix's Insatiable is getting dragged for being fatphobic and problematic
The new Netflix series Insatiable premieres Friday and, according to reviews, it's just as problematic as the July trailer made it seem. The plot itself is yikes-inducing. The show stars Debby Ryan as a teen named Patty, who is bullied for being overweight. But when her jaw is broken and must be wired shut to heal, she loses weight quickly and returns to school as a skinny beauty queen, ready to get her revenge on her classmates.
The fatphobic aspects seem bad enough, as NPR's Linda Holmes wrote in a review Thursday. Ryan wears a fat suit in the beginning of the series — and the reason she breaks her jaw is because she gets in a fight with a homeless man who tries to steal her candy bar.
But, as Holmes points out, there are lots of other terrible parts, like a plot point centering on a false sexual abuse allegation and lazy tropes like "a magical sassy godmother who is fat and black and a lesbian who exists only to educate thin white girls on how to live their best lives." Hmm Netflix, what's going on over there?
Ben Schwartz will voice Sonic the Hedgehog
Ben Schwartz, aka Jean-Ralphio on Parks and Recreation, has a big new role — he's Sonic the Hedgehog. Variety reported Wednesday that Schwartz will voice the iconic video game character in an upcoming movie, due out in November 2019.
Schwartz is no stranger to voice acting; he's voiced characters in the Netflix show BoJack Horseman and the rebooted DuckTales on the Disney Channel. The upcoming Sonic film will apparently mix live-action and CGI and also star James Marsden, Tika Sumpter and Jim Carrey.
The Idris Elba rumor mill is churning again
Everyone really, really wants British star Idris Elba to be the next James Bond, and Twitter was buzzing about it again Thursday night. That was mostly thanks to an Esquire article that vaguely suggested Bond producers are "starting to lean toward the idea of Elba taking the role." Esquire cited a report in the Independent that the Bond team may be considering Elba as the next star. But nothing is even close to confirmed yet, so don't get too excited.
Check out the trailer for Maggie Gyllenhaal's The Kindergarten Teacher
The trailer for Maggie Gyllenhaal's new film The Kindergarten Teacher dropped Thursday. In it, Gyllenhaal plays a New York City teacher who becomes obsessed with one of her young student's seemingly genius poetry and steals it to present it as her own. Then she becomes obsessed with the student himself. The film debuted at Sundance earlier this year, and now it's coming to Netflix in October. Watch the new trailer here.
Put this on your radar: Insecure
I know I've talked about this before, but now it's finally here. The third season of Issa Rae's show Insecure premieres Sunday on HBO. Like past seasons, it will continue to explore being young and black and struggling to figure out adulthood in Los Angeles — but this season, main character Issa is living a whole new life outside of the one she shared with her long-term boyfriend, Lawrence.
The third season is already getting rave reviews, Entertainment Weekly said the "first four episodes of Insecure's third season are all highs, sending the characters in new directions." The season premiere airs this Sunday at 10:30 p.m. on HBO. See you there!