Today in Trump's America: Melania Trump's parents become U.S. citizens thanks to "chain migration"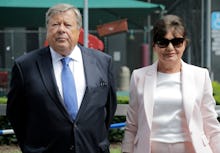 Welcome to Mic's daily read on Donald Trump's America. Want to receive this as a daily email in your inbox? Subscribe here.
Good morning from Emily Singer at Mic.
Check out Mic Dispatch, Mic's new show reporting on the problem-solvers and the provocateurs in our changing world. Subscribe here for alerts on new episodes airing Tuesdays and Thursdays, 8 p.m. Eastern, on Facebook Watch.
Here's what's happening in Trump's America:
• It's a true summer Friday in Washington, D.C. Trump is still on vacation at his golf club in Bedminster, New Jersey. There are no public events on his schedule.
About last night: Melania Trump's parents use so-called "chain migration" to become U.S. citizens
First lady Melania Trump's parents became United States citizens Thursday, benefiting from the so-called "chain migration" policy her husband, President Donald Trump, has railed against and vowed to end, the New York Times reported.
Viktor and Amalija Knavs took their oath of citizenship at a private ceremony in Manhattan. Their citizenship was made possible by their daughter, who was able to sponsor them for their green cards, which later made them eligible for citizenship.
A lawyer for the first lady's parents confirmed to the New York Times that his clients did benefit from "chain migration" but called that term a "dirtier" way to describe the family reunification policy that's been in place for decades.
Of course, "chain migration" is the term the president has chosen to use when he railed against the policy that his in-laws have now benefited from.
"We need a 21st century MERIT-BASED immigration system," Trump tweeted in February. "Chain migration and the visa lottery are outdated programs that hurt our economic and national security."
"We need to keep America safe, including moving away from a random chain migration and lottery system, to one that is merit-based," Trump tweeted in January.
"Congress must end chain migration so that we can have a system that is SECURITY BASED!" Trump tweeted in November 2017. "We need to make AMERICA SAFE!"
"CHAIN MIGRATION must end now!" Trump tweeted again in November 2017. "Some people come in, and they bring their whole family with them, who can be truly evil. NOT ACCEPTABLE!"
The White House did not respond to comment from the Times about whether Trump supports his wife being allowed to utilize what he calls "chain migration" to allow her parents to become citizens.
Today in Trump's America: Prosecution could rest its case in Manafort trial
Prosecutors are nearing the end of their case against former Trump campaign chairman Paul Manafort and could rest as early as Friday, according to the Washington Post.
Over the past eight days of the trial, prosecutors have laid out a long paper trail — corroborated by multiple witnesses — which they say shows Manafort engaged in rampant tax evasion and later bank fraud, when the millions he earned through political consulting work for pro-Russian officials in Ukraine dried up.
Experts say the prosecution's case is strong, but wonder whether the judge overseeing the trial, T.S. Ellis III, may influence the jury. He's chided prosecutors and even inserted his own analysis of the prosecution's case from the bench.
After prosecutors objected to one of Ellis' many dressdowns, Ellis apologized Thursday, admitting he was wrong to berate the prosecutors in front of the jury.
Some experts say Ellis' behavior is unlikely to change the outcome of the trial.
"There has been too much focus on the judge's behavior, which is unfortunate but won't impact the outcome of the case, and not enough focus on his style of judging," former federal prosecutor Renato Mariotti tweeted. "He has been a strong judge that has kept control of the courtroom. That is huge for the prosecution."
"The judge also wants to wrap this up, because he knows there is more than enough evidence already, and it is in everyone's interest (including prosecutors) to keep this concise," Mariotti added. "Many good judges do this. I call them 'move along' judges."
After the prosecution wraps, Manafort's defense team will make its case. Manafort's lawyers have already cross-examined Manafort's former associate Rick Gates, who pleaded guilty to one count of conspiracy against the United States and lying to federal agents. He also testified against Manafort in the trial.
Manafort's defense strategy is to pin the bank fraud and tax evasion charges on Gates. However, the long paper trail, which includes evidence Manafort knew about at least some of the bank fraud and tax evasion, makes that defense challenging.
And the rest…
Puerto Rico: Puerto Rico's government acknowledged Thursday the death toll from Hurricane Maria stands at 1,427 — 20 times greater than the official death toll, according to the New York Times.
Contempt: A federal judge on Thursday threatened to hold a number of high-level Trump administration officials — including Attorney General Jeff Sessions and Secretary of Homeland Security Kirstjen Nielsen — in contempt of court. This would be, the judge said, if they did not swiftly comply with his order to return a mother and daughter who had been deported before their asylum case had been heard by a judge.
"In the event that the Defendants do not fully comply with this Order, … [they] shall be ordered to appear in Court to show cause why they should not be held in contempt," Judge Emmet G. Sullivan, a federal judge in Washington, D.C., wrote.
SPACE FORCE!: Vice President Mike Pence announced Thursday the Trump administration will launch the United States Space Force, a sixth branch of the military, by 2020. It's unclear how expensive launching another massive agency, which would require expensive technology to get human beings into orbit, will be. The Trump administration has shown, however, cost to the deficit doesn't bother it if it supports the administration's deficit-busting policies, such as the tax reform law Republicans passed in December. As the Trump administration says, Mars awaits!