Trump tries to shift conversation back to his culture war against black athletes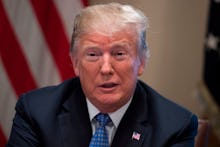 Facing mounting pressure over the Russia investigation, President Donald Trump on Friday kicked off another season of his culture war against football players protesting racial injustice during the pregame national anthem.
As he did in his recent broadside against NBA superstar LeBron James, Trump attacked kneeling NFL players' intelligence on Twitter, suggesting the mostly black football players are "unable to define" what they're protesting against.
"The NFL players are at it again — taking a knee when they should be standing proudly for the National Anthem," Trump tweeted early Friday. "Numerous players, from different teams, wanted to show their 'outrage' at something that most of them are unable to define.
"They make a fortune doing what they love," Trump added, suggesting the players are ungrateful. "Be happy, be cool!"
The tweets were Trump's latest offensive against black athletes, part of a pattern in which he appears to try shifting the conversation when the Russia investigation heats up.
The president began his crusade against the NFL in the fall, just weeks before special counsel Robert Mueller indicted former Trump campaign chairman Paul Manafort and his associate Rick Gates on Oct. 30.
"Wouldn't you love to see one of these NFL owners, when somebody disrespects our flag, to say, 'Get that son of a bitch off the field right now, out, he's fired,'" Trump said at a campaign rally in late September. "You know, some owner is gonna do that ... They'll be the most popular person, for a week. They'll be the most popular person in this country."
That began an exhausting, monthslong onslaught against the league that saw Trump tweet about how players were "disrespecting" the country and a stunt in which Vice President Mike Pence attended an Indianapolis Colts game, only to leave shortly after because players kneeled during the anthem.
"I will not dignify any event that disrespects our soldiers, our flag or our national anthem," Pence tweeted after making a show of leaving as the Colts took on the San Francisco 49ers in October.
The NFL wasn't the only target of Trump's ire at the time — he also went out of his way to take jabs at Golden State Warriors guard Steph Curry and sports journalist Jemele Hill.
All of this played out against the backdrop of the intensifying investigation into alleged ties between Trump's campaign and Russia — as well as potential obstruction of justice on Trump's part — that would soon ensnare Manafort, Gates and former national security adviser Michael Flynn.
Now, Manafort is nearing the end of his first financial fraud trial in Virginia, during which prosecutors have used Gates as their star witness; Trump's former lawyer and fixer, Michael Cohen, is increasingly signaling that he's willing to flip on him; and his son's questionable 2016 meeting with a Kremlin-connected lawyer who was believed to have dirt on Hillary Clinton is facing increased scrutiny.
With the pressure mounting, Trump again appears to be trying to shift the conversation from his potential legal and political problems to his attacks on the NFL, which appear to play well to his base of supporters.
The league seemed to give in to Trump in May, announcing it would fine players who do not stand for the anthem. After the NFL Players Association objected, however, the NFL announced in July it would not implement the new policy, saying the league and the NFLPA were negotiating.
Trump quickly latched on, tweeting July 20 that the "NFL National Anthem Debate is alive and well again."
"Can't believe it!" Trump wrote.
In addition to his recent calls for players to be ejected from games and suspended without pay for kneeling during the anthem, Trump also received widespread backlash for attacking LeBron James just days ago.
Responding to an interview LeBron gave to CNN's Don Lemon about the new public school he opened in Akron, Ohio — during which the NBA star offered measured criticism of the president — Trump tweeted that Lemon, the "dumbest man on television," had made James "look smart, which isn't easy to do."
"I like Mike!" he added, referring to Chicago Bulls legend Michael Jordan, against whom James' greatness is frequently measured. Trump received significant pushback for the attack, including from Republican Ohio Gov. John Kasich, Jordan and his own wife, Melania Trump.
There have been strong racist overtones to both Trump's attacks on sports figures and the specific sports figures he targets. While Trump has had no problem going after black athletes for perceived slights against him, he has not demonstrated a similar willingness to go after white athletes who have criticized him, including San Antonio Spurs head coach Gregg Popovich and Golden State Warriors head coach Steve Kerr.
A number of NFL players have been kneeling during the pregame national anthem since former 49ers quarterback Colin Kaepernick began protesting racial injustice and police brutality during the 2016 preseason. Kaepernick has been without an NFL job since the end of that season, despite leading his team to a Super Bowl just a few years earlier and posting solid numbers in the 49ers' otherwise frustrating 2016 campaign.
Trump claimed credit in March 2017 for Kaepernick's apparent blackballing, saying NFL owners wouldn't hire the outspoken quarterback because they feared receiving a "nasty tweet from Donald Trump."
Despite the criticism and a lack of support from the league and team owners, NFL players have continued to protest as the 2018 season gets underway.
Trump's latest tweets came the day after a slate of preseason contests that featured numerous players kneeling during the anthem.
Trump said the gridiron is not the place to protest because fans pay "soooo much money to watch and enjoy" the game. Players instead should "find another way."
"Stand proudly for your National Anthem or be Suspended Without Pay!" he added.