Who's Sorry This Week? Casey Affleck, Lady Gaga and other public apologies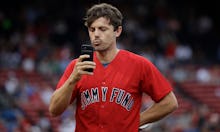 Another week, another deluge of apologies.
In Who's Sorry This Week? Mic tracks down the most prominent mea culpas from celebrities, companies and other public entities trying to make amends for their various screw-ups.
This week had no shortage of apologies, so let's get right to it.
Tokyo Medical University is sorry it manipulated test scores to keep women out
A recent investigation into Tokyo Medical University's admission practices uncovered a years-long, systematic effort to bar women from joining the school. The investigation revealed students had their entrance exam scores lowered by 20 points and then added those 20 points back for the male applicants.
The justification? The school thought women would stop their careers after becoming mothers — men were just a smarter investment, or something. Speaking of investments, the investigation also found the school had a practice of accepting money from parents who wanted "preferential treatment" for their sons in the admissions process, according to the Associated Press.
At a press conference earlier in the week, school officials acknowledged these practices took place and apologized, according to Agence France-Presse.
"We betrayed the public trust," Tetsuo Yukioka, the university's managing director, said. "We want to sincerely apologize for this."
"When I think about the female applicants who could have been admitted but were denied, my heart aches for them," Keisuke Miyazawa, the school's vice president, said, according to Bloomberg.
Casey Affleck is sorry he was "unprofessional" on the set of his 2010 film I'm Still Here, which resulted in two sexual harassment lawsuits
In 2010, actor Casey Affleck settled lawsuits brought forth by two women who alleged he sexually harassed them on the set of I'm Still Here, a film he directed that Joaquin Phoenix.
Those allegations resurfaced in January as the Academy Awards drew near, with many saying it would be inappropriate for Affleck to present the award for best actress, given the increased awareness of issues of sexual misconduct in Hollywood, thanks to the #MeToo movement. Traditionally, the winner for best actor presents the award the following year for best actress and vice versa. Affleck won the award for best actor for his performance in Manchester by the Sea in 2017.
In response to the outcry against him, Affleck confirmed he would not be presenting at the Academy Awards. In his place, Jennifer Lawrence and Jodie Foster presented the award to winner Frances McDormand, who won for her performance in Three Billboards Outside Ebbing, Missouri.
Thursday, Affleck emerged for the first time since the scandal for an interview with the Associated Press. It was an attempt to make reparations for his "unprofessional" behavior.
"I kind of moved from a place of being defensive to one of a more mature point of view, trying to find my own culpability," Affleck said. "And once I did that I discovered there was a lot to learn. I was a boss. I was one of the producers on the set. ... And I contributed to that unprofessional environment and I tolerated that kind of behavior from other people and I wish that I hadn't. And I regret a lot of that. I really did not know what I was responsible for as the boss. I don't even know if I thought of myself as the boss. But I behaved in a way and allowed others to behave in a way that was really unprofessional. And I'm sorry."
Lady Gaga is sorry she assumed Rick "Zombie Boy" Genest died by suicide
Rick "Zombie Boy" Genest, a model known for extravagant tattoos that covered his entire body, was found dead in early August in Montreal after apparently falling from a balcony. Lady Gaga, who heavily featured Genest in her video for the 2011 song "Born This Way," tweeted her condolences to Genest's family, saying he died by suicide, according to the New York Times.
Genest's camp soon disputed this account, however, saying the 32-year-old's death was a tragic accident. Karim Leduc, Genest's manager, said there were "too many inconsistencies around his death to rule it as a suicide, and for people to jump to conclusions that rapidly was disappointing," according to Entertainment Weekly.
Lady Gaga later deleted her tweet implying Genest's cause of death and apologized.
"I apologize if I spoke too soon as there was no witnesses or evidence to support any conclusion for the cause of his death," she tweeted Saturday. "I in no way meant to draw an unjust conclusion My deepest condolences to his entire family and friends."
Editor's note: For information about suicide prevention or to speak with someone confidentially, contact the National Suicide Prevention Lifeline at 1-800-273-8255 or the Crisis Text Line at 741-741. Both provide free, anonymous support 24 hours a day, seven days a week.
Ohio judge John J. Russo is sorry he ordered five officers to tape an inmate's mouth shut during trial
At a hearing in July, Judge John J. Russo ordered officers to "gag" inmate Franklyn Williams' mouth with tape, according to People. In a video of the incident, Russo can be seen repeatedly telling Williams to "zip it" as Williams tries to speak up and voice his concerns about the trial, apparently out of turn.
After footage of the trial went viral, activists and organizations like the American Civil Liberties Union spoke out against Russo, saying his actions were inappropriate.
"We cannot regard this as normal," ACLU Ohio attorney Elizabeth Bonham said in a statement. "It is humiliating. It doesn't just deprive this person of the opportunity to speak before his life is taken away, it steals his dignity. Everything about this is wrong."
Monday, Russo apologized and recused himself from the trial.
"In retrospect, while there is legal precedent for gagging a defendant to keep order in a court, I apologize for taking that action last week," Russo said, according to Fox 8.