West Virginia's entire state Supreme Court could be impeached for corruption and incompetency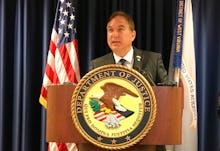 A House committee in West Virginia voted Thursday to bring 14 charges of impeachment against all four state Supreme Court justices, alleging charges of "corruption, maladministration, incompetency, neglect of duty and potential criminal behavior."
Chief Justice Margaret Workman and Justices Allen Loughry, Robin Davis and Elizabeth Walker all faced charges from the House Judiciary Committee, which will be voted on in the full state House of Representatives Aug. 13. The impeachment process would then be tried in the state Senate, where two-thirds of the lawmakers would have to approve the impeachment.
"This is truly a sad day for West Virginia, but it is an important step forward if we are going to restore the public's confidence in the judiciary," John Shott, the judiciary committee chairman, said in a statement. "This committee did not take this effort lightly. After reviewing all the evidence available to us, it became clear that a culture of entitlement and disregard for both the law and taxpayer funds have damaged the reputation of our judicial system – and that all justices had a part in violating the public's trust."
The impeachment charges are largely directed toward Justice Allen Loughry, who was already indicted in June by a grand jury on 22 charges of fraud, false statements and witness tampering. The Washington Post noted the indictment ironically began with Loughry himself, who met with the FBI to report his Supreme Court colleagues for improper spending — only to end up being the one charged with fraud.
Circuit Court Judge Paul T. Farrell has been announced as Loughry's replacement Thursday, and he would oversee any Senate impeachment hearings of his colleagues.
Loughry now faces eight impeachment charges, which include illegally possessing a historic desk at his home; improperly using state computer equipment and state vehicles for personal use; wasteful spending for the "framing of personal items;" wrongly approving overpayments to judges; and deceiving the House Finance Committee under oath.
Chief Justice Workman and Justice Davis are also charged with wrongly approving overpayments to judges. All four justices face charges of wasteful spending on office renovations and "failure to properly carry out the administrative duties of the court."
The lavish office spending included a $3.7 million renovation to court offices and such expensive furnishings as a $32,000 couch in Loughry's office, the Charleston Gazette-Mail reported in January.
According to the Gazette-Mail, if the justices are impeached, Republican Gov. Jim Justice will likely appoint interim justices until the public can vote in a special election in 2020. Voters could only elect replacement justices in the November 2018 midterm elections if the justices were impeached at least 84 days prior to the election, which would be Aug. 14. They will, however, already be voting on a constitutional amendment to determine whether lawmakers should have control over the judiciary's budget, which the court currently controls itself.
The West Virginia court is typically made up of five justices, but currently has a vacancy after Justice Menis E. Ketchum II retired from the court in July. Though he wasn't named in Thursday's counts of impeachment, former Justice Ketchum could not escape the Court's web of corruption — Ketchum was charged with wire fraud just four days after his retirement.