What is Paul Manafort's end game?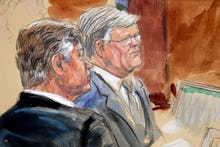 Former Donald Trump campaign chairman Paul Manafort's first federal trial is hurtling to a conclusion, with the prosecution set to rest their case against Manafort on dozens of bank fraud and tax evasion charges as early as Friday afternoon.
And while Manafort's defense got some licks in against the government's star witness, as well as aid from the judge interjecting his opinion from the bench, experts say the prosecution's evidence makes it unlikely Manafort will escape conviction on at least some of the 32 counts he's facing.
"Manafort's only hope at this point is that there is a juror who has off-the-wall views that are not impacted by the mountains of evidence in this case," former federal prosecutor Renato Mariotti tweeted Friday.
Which begs the question: What is Manafort's end game here?
Legal fees to mount a defense could set Manafort back millions of dollars. Should Manafort be found guilty of tax evasion, he would also be forced to pay the back taxes he evaded throughout the years and could face more than 300 years in prison.
Even if Manafort is acquitted in this first trial, he is set to face a jury again in September on more explosive charges of conspiracy against the United States, money laundering, failing to register as a foreign agent and obstruction of justice, including conspiring to stop the testimony of potential witnesses in the case. Mounting another defense would be another costly move in a risky trial that also carries the possibility of jail time.
"Most practitioners would say [that] whether or not a case goes to trial is not a referendum of how confident the prosecutors were," former federal prosecutor Patrick Cotter, now a federal defense attorney, said in an interview. "The prosecutors were confident the day they brought their charges. There is usually some extraordinary reason it didn't plead out. Either the defendant absolutely believes that he or she has a really valid defense, or the defendant is not being reasonable and is just irrationally choosing to go to trial, or the government is not offering a reasonable plea deal or a plea deal that's attractive to the defendant."
There's another factor in Manafort's case: Trump's pardon power.
The president has proven he's willing to pardon those who have been loyal to him, as well as people he feels can make a political point about special counsel Robert Mueller's investigation. For example, Trump pardoned former Maricopa County Sheriff Joe Arpaio — one of his earliest campaign supporters — even though Arpaio didn't meet the traditional standards for a pardon.
Trump also pardoned Scooter Libby, former chief of staff to former Vice President Dick Cheney who was convicted in 2007 of lying to the FBI and obstructing justice.
Libby, who never served a day in jail, already had his sentence commuted by former President George W. Bush. The Libby pardon struck experts as a wink to Trump's former aides who have been charged with similar offenses that he is willing to pardon them, possibly in an effort to discourage them from testifying.
Still, Trump's pardon power — should he choose to use it on Manafort, or perhaps his former national security adviser Michael Flynn — could backfire spectacularly.
If Trump pardons someone like Manafort or Flynn, they would lose their Fifth Amendment right against self-incrimination, according to Vox. In other words, should Manafort or Flynn be called to testify against Trump for any reason, they would have to testify.