Lena Waithe on her new haircut and feeling free: "I really stepped into myself."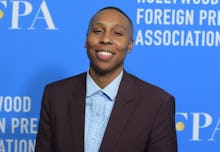 Emmy-winning writer and actress Lena Waithe showed up at the Hollywood Foreign Press Association's annual grants banquet Thursday rocking the short new haircut she debuted in July. And, as she told Variety on the red carpet for the event, cutting her hair actually had a lot of meaning for her and symbolized taking ownership of her identity in a new way.
"I felt like I was holding onto a piece of femininity that would make the world feel comfortable with who I am," Waithe said. "I think I thought for a long time, 'Oh, if I cut my hair, I'll be a stud, I'll be, you know, in the gay world, there's a lot of categories — I'll be a stud or I'll be a butch,' and I've always thought, 'Well, no, I'm not that, I'm so soft,' and I said, 'Oh, I gotta put that down 'cause that's something that's outside of me.'"
Waithe added finally cutting her hair made her feel "so free and so happy and so joyful, and I really stepped into myself."
Waithe might be one of the hardest working people in Hollywood — she's currently juggling multiple projects, including a new series for TBS, season two of her Showtime drama The Chi and a new HBO series starring Kid Fury she's producing.
She's also engaged to girlfriend Alana Mayo, a film production executive. But Waithe, who made history in 2017 as the first black woman to win an Emmy for comedy writing, still had time to speak thoughtfully and candidly about gender expression and outward-facing identities.
"If people call me a butch or say 'she's stud' or call me sir out in the world — so what," Waithe said Thursday. "So be it. I'm here with a suit on, not a stitch of makeup and a haircut — I feel like, 'Why can't I exist in the world in that way?'"