Counterfeit reusable straws are being sold on Amazon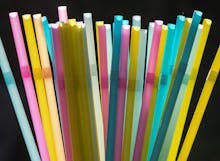 The drama around plastic straws has taken yet another turn.
With the current anti-plastic straw movement making waves across the country — and corporate behemoths like Starbucks and Disney joining the cause — the tension around single-use plastic has become so thick, you could cut it with a (reusable) knife.
In the wake of plastic straws being banned, a number of green alternatives have come into the market, including FinalStraw, which calls itself the world's first collapsible, reusable straw.
More than 38,000 people have pledged nearly $2 million on Kickstarter for their chance at getting their hands on a stainless steel FinalStraw, expected to ship to customers in November.
Emma Cohen, co-creator of FinalStraw, told Today that "knockoff" straws using her product's image and branding have surfaced on sites like Amazon. Cohen said these counterfeit straws, which retail for less than half the cost of FinalStraw's product, are confusing customers who end up contacting FinalStraw when their knockoff falls apart.
"The whole purpose was to reduce waste," Cohen said. "And this was such an unfortunate, unintended consequence."
Cohen also said she's worried about the possible health concerns associated with knockoff products, including chemicals like lead or BPA, which may not have undergone thorough consumer testing.
According to its Kickstarter page, a single FinalStraw saves 584 plastic straws from entering landfills and oceans annually, which means it allows users to enjoy any beverage "with the warm fuzzy feeling that accompanies waste reduction."
The straw, which will retail at $30 when it hits the market, comes with a cleaning squeegee and plastic case made from 100% post-consumer recycled plastic.
Can you actually patent a collapsible straw?
Buzzfeed News reported a number of counterfeits have been taken down for infringing upon FinalStraw's intellectual property.
While stealing branding and imagery may be copyright infringement, stopping competitors from selling a collapsible straw may be a separate issue, Michael J. Feigin, a patent and trademark attorney, said in an email.
FinalStraw has a patent currently pending on its product, but Feigin said the business may run into issues protecting it.
"Just because it's 'patent pending' doesn't mean they'll get an eventual patent," he said. "And while it's possible, I would find it hard to believe that they'd get a utility patent on it, because the concept of a tube that folds they way theirs does not appear to be both 'new' and 'unobvious,' [which are] requirements to get a patent."
A design patent that protects the "look" of the product could be filed, Feigin said, though it wouldn't stop competitors from imitating FinalStraw.
"Someone could still make a different-looking product that functions the same," Feigin said, noting magic wands have a similar unfolding functionality.
In the case of reusable straws, though, make sure you find a quality one and aren't contributing to further waste with a knockoff.