What Melania Trump wore her 81st week as first lady — the week her parents became citizens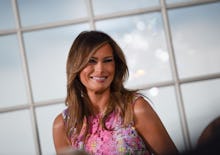 This week was a special one for first lady Melania Trump — her parents, Viktor and Amalija Knavs, immigrants from Slovenia, were granted U.S. citizenship on Thursday. Interestingly, they were able to do so thanks to sponsorship from their daughter, the first lady — a pathway to citizenship her husband, President Donald Trump, has derided as "chain migration" and has been trying to repeal.
Anyway, the first lady didn't actually make a public appearance Thursday when her parents became citizens, but perhaps they celebrated in private. In fact, Trump flew relatively under the radar this week, but she did appear at a Tuesday dinner for CEOs and senior White House staff, hosted at Donald Trump's golf club in New Jersey.
Here is what she wore this week.
Tuesday, Aug. 7: A Monique Lhuillier dress at a dinner in New Jersey
Along with her husband, Trump hosted a dinner at the Trump National Golf Club in Bedminster, New Jersey, Tuesday. Among the CEOs in attendance were PepsiCo CEO Indra Nooyi, Johnson & Johnson CEO Alex Gorsky and FedEx CEO Fred Smith. Trump wore a pink floral Monique Lhuillier A-line dress she previously wore back in July 2017 at a rally in Youngstown, Ohio.
Trump's official first lady Twitter account tweeted photos from the event Wednesday, along with the message, "Was a great evening hosting business leaders from across different industries w @potus for dinner last night in Bedminster. Thank you to all who attended!"
You can read previous recaps of what Melania Trump wore here.