Roger Stone associate held in contempt for refusing to appear before Mueller grand jury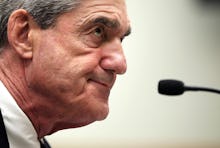 Andrew Miller, an associate of Republican operative and longtime Donald Trump ally Roger Stone, was reportedly held in contempt of court Friday after refusing to appear before special counsel Robert Mueller's grand jury.
According to the Washington Post, Miller defied a June subpoena by Mueller to testify as part of the FBI probe into possible collusion between Trump's 2016 campaign and the Russians, along with potential obstruction of justice on the part of the president.
Miller is a longtime associate of Stone and worked on Kristin Davis' campaign when the so-called "Manhattan Madam" unsuccessfully ran for governor of New York in 2010.
Both Miller and Davis have been called to testify in Mueller's investigation in what may be a sign the special counsel is building a case against Stone.
Stone, who served as an unofficial adviser to Trump during the 2016 presidential race, has acknowledged he communicated with Guccifer 2.0 — the fictitious online persona through which Kremlin intelligence operatives disseminated stolen documents from the Hillary Clinton campaign and the Democratic Party, as Mueller outlined in a 29-page indictment of Russian officials who coordinated the Kremlin's interference in the United States election.
Stone said in July he is "probably" the unnamed American described in the document as having been in contact with both Guccifer 2.0 and "senior members" of the Trump campaign.
Earlier in 2018, Stone associates also said Stone claimed to have been briefed by WikiLeaks founder Julian Assange about stolen emails the organization had obtained before they were released.
The pressure on Stone threatens to bring the Russia investigation even deeper into Trump's inner circle, but the eccentric political trickster told CNN on Wednesday there are "no circumstances" under which he would testify against the president.
Miller worked for Stone during the 2016 campaign.
He had challenged Mueller's subpoena in court by arguing the special counsel's appointment was unconstitutional, but a federal judge rejected the argument Aug. 2.
"The scope of the special counsel's power falls well within the boundaries the Constitution permits," U.S. District Chief Judge Beryl Howell ruled.