This week in food and travel: A new study finds eating crickets may be good for your gut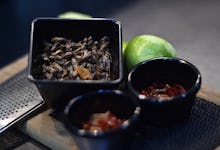 This news might be difficult to stomach, but it comes with a silver lining. According to a study published in Scientific Reports in July, crickets may actually increase enzymes in the stomach that aid metabolism. And if you're skittish about eating insects, well, you may already be eating them without knowing.
This week, we asked travel experts what airlines owe you when a flight doesn't exactly go as planned, looked at the rebranding of controversial vending-machine startup Bodega and explored Grenada's underwater sculpture park.
The two-week study followed 20 men and women who consumed either a bug-free breakfast or 25 grams of crickets.
Over $6 billion in compensation for disrupted flights, as in delays or cancellations, is left unclaimed worldwide. Here's how you can take advantage of your airline troubles.
A controversial Silicon Valley-based startup is making changes to rebrand itself — but will it actually work?
The world's first underwater sculpture park has a symbiotic relationship with the ocean and the creatures that live there.