A year after Charlottesville, money for injured residents is drying up — or never arrived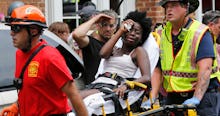 A year after the deadly white nationalist rally in Charlottesville, Virginia, became a watershed moment in recent United States history — one viewed by many as a picture of the social climate across the country — members of the community in the small Virginia city are still counting the cost.
Many who were in the streets of Charlottesville are still in therapy to deal with both their physical and mental injuries. Others still face surgeries, and some are unable to work due to their trauma. While funds sprung up over the past year to cover these costs, locals say they fear the money could soon run out — and in some cases, it never turned up.
According to media reports, at least 20 people were harmed in a car attack during the rally. The attack was allegedly committed by James Alex Fields Jr., a man who reportedly sympathized with white nationalist views. Dozens were injured during violent clashes, city officials said at the time.
Fields has been indicted on 30 charges related to the car attack, including one for the first-degree murder of 32-year-old counterprotester Heather Heyer.
Star Peterson was one of the people hit by that gray Dodge Challenger.
"I was near the front of the crowd when I was ran over," Peterson said in an interview.
The car crushed Peterson's right leg and left her with a broken left leg and rib, as well as a back that was broken in two places. She said she was rushed into immediate surgery on Aug. 12, to "stabilize" her condition and "take out bits of bone sticking out of my skin."
Three more surgeries followed. During the second, surgeons "put in metal plates and roughly 18 screws to give my [right] leg a trellis to grow on," Peterson said.
Then, around December or January, the metal in her leg became host to a serious infection, she said. After attempts to treat the infection with antibiotics failed, she underwent an "emergency washout" surgery to address the condition. A fourth surgery removed the metal implanted in her body.
Peterson's right leg has been in an immobilizer, which inhibits any movement, since May. It will remain there until her bone regrows. Doctors haven't given her a timeframe for when that would be.
She is waiting to hear if a fifth surgery will be required.
The numerous medical procedures, loss of income — Peterson has only worked part-time for three weeks since August 2017 — and physical therapy became expensive. She considers herself fortunate that she was able to handle costs first through insurance, now through Medicaid, and also through a GoFundMe campaign started for her by friends during her initial stay in the hospital.
Others haven't been so lucky. Peterson said many survivors are relying on Heal Charlottesville Fund and the Charlottesville Community Resilience Fund, which is helmed by a "multiracial coalition" to help cover medical bills, rent and lost wages due to trauma.
Heal Charlottesville has been particularly helpful, she said.
"Unfortunately, they're scheduled to run out of money by January," Peterson said. "I can think of people who won't be back at work by then."
Mic attempted to contact city officials to confirm the status of Heal Charlottesville's remaining funds on Thursday, but did not receive a response.
Delayed funds
While Heal Charlottesville might empty its coffers by January, according to multiple activists Mic spoke to, another sizable fund hasn't even begun paying out, which has since December led to controversy in the community.
Roughly $200,000 raised through a GoFundMe by the Anchorage chapter of the Democratic Socialists of America, an organization known for its campaigns for progressive issues like universal health care, is still awaiting disbursement.
The money was given to the DSA's National Political Committee for distribution shortly after it was raised.
After discussion between the DSA-NPC and local DSA chapters in Richmond and Charlottesville, who wanted to handle the funds locally, the money was given to the National Compassion Fund, a charity that distributes money to survivors of attacks, for disbursement.
By December, health care bills were mounting, and locals hadn't heard from the DSA-NPC or the NCF.
Grace Aheron, a local organizer with Showing Up for Racial Justice who was in Charlottesville on Aug. 12 and witnessed the deadly crash, says she applied for support through the NCF as a psychological survivor due to the violent nature of the rally.
Aheron was first directly contacted by the NCF in March, she said. Over the following months, she said she received numerous emails informing her that funds would be delivered pending further vetting of applicants, as the NCF distributes funds to everyone at once, which requires all claims to be verified before disbursement.
Aheron said she received an email on July 26 saying she would receive a check from NCF in four to seven days.
"I still haven't seen heads or tails of it," Aheron said.
The NCF did not respond to Mic's request for comment.
Community leadership
The debacle led to outrage toward the DSA among many in Charlottesville. Aheron said that for her, feelings have now "simmered. The reality has set in that maybe we'll see the money, maybe we won't."
When asked for comment, the DSA-NPC directed Mic to a July 24 apology for its handling of the fund.
For local activists, the situation surrounding the funds hammered home the point that community members should oversee support efforts. Charlottesville DSA, along with other local activists and organizations, have released statements calling on those outside their community to "refrain" from starting new campaigns, asking them to donate to local funds.
Aheron said the community has rallied in other ways, detailing one-on-one and group support, including online support groups, and revisiting the location of the attack so "people can do what they need to do."
"It's been cool to watch the community come together and help each other," she said.
Dr. Sandro Galea, dean and Robert A. Knox professor at the Boston University School of Public Health, who has long studied mass trauma, said via email that events such as those in Charlottesville can leave lasting communal trauma. One of the best ways to deal with this is to "foster social belonging," so the affected don't feel "isolated," Galea said, referring to support efforts such as public gatherings.
"Social supports are among the best documented protected factors against the consequences of traumatic events," he concluded.
Long-standing issues
While the community has rallied, not everything in Charlottesville is perfect. Peterson said that although the response to the trauma — especially the financial support for survivors of the attack — was "generous and genuine," longstanding issues in Charlottesville remain overlooked.
After the rally, some thought Charlottesville could be seen as a mirror of what was happening across the U.S.: increased racial tension, political division and violent protest in the streets following the victory of Donald Trump's 2016 campaign, which was anti-immigrant and featured discriminatory rhetoric toward Latinos and Muslims.
Nicole Hemmer, a Charlottesville native and columnist for Vox, wrote that the city was host to a "proxy war, a chance for factions to fight … over two irreconcilable futures for the city, and for the country."
Peterson sees another way in which Charlottesville mirrors what's happening across the country. The city, founded in 1762, is full of gorgeous, historical architecture, modern bars, restaurants and other tourist attractions. It's very wealthy, but very unequal.
The Economic Policy Institute, a think tank that studies conditions for low- and middle-class Americans, listed Charlottesville is in the fifteenth most unequal county in the U.S. in a 2018 study.
"Public housing is horrible. Our public transportation system is woefully underfunded, and because these are all issues that affect people of low wealth, they've historically affected people of color," she continued.
While she welcomed community support, Peterson said she fears that Charlottesville won't fully heal until these issues are addressed.
Saturday, August 11, 2018: This story has been updated.