Barbados Crop Over is a celebration of freedom, where festivalgoers honor their bodies and heritage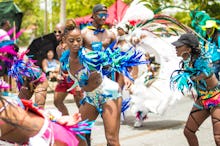 For the past six years, Natalie Lawson has been juggling four different group chats about the same vacation. In each, she's talking to her friends about attending a blowout celebration in the Caribbean. Though the destinations include both Port of Spain, Trinidad, and St. James, Barbados, the purpose is the same: to play mas in a Caribbean carnival.
When it comes to playing mas or "jumping" — the respective terms for masquerading at Carnival in Trinidad and Crop Over in Barbados — the Jamaica-born nurse is always eager to plan for these two massive events, which draw diverse crowds from across the globe. Trinidad and Tobago welcomed 37,448 people during Carnival season in February and March 2017, according to its Ministry of Planning and Development, while Barbados reported tourism numbers of 51,942 people in August 2017.
Twice a year, Lawson sheds personal and professional worries to bask in the sights, sounds and tastes of Caribbean culture, reunite with old friends and, most importantly, have fun in a judgment-free zone. Around Lent and during the summer months, individuals from within and outside of the Caribbean diaspora flock to Barbados, Trinidad, Jamaica, London, Toronto, Miami, New York and a host of other global locales to participate in extravagant parades.
Crop Over takes place over the course of six weeks, but the biggest event is Grand Kadooment Day, held this year on Aug. 6, which celebrates the end of the season. Lawson was one of thousands donning vibrant, bejeweled swimsuits, sprawling feathered wings and headdresses for the ladies, a wide array of national flags and mile-wide smiles as they swung their hips down Spring Garden Highway to soca and calypso music.
"As far as the eye can see, there are happy people of color," Lawson said by phone before the event. "Carnival is one of those places where you can't throw a stone and not hit somebody enjoying themselves and not hit somebody with brown skin feeling free. It's one of the very few places where you see people really loosen up."
Although Lawson is island born and carnivals are part of the fabric of West Indian culture, she didn't participate until the age of 27. She is a self-described introvert and hardly considers herself a casual partier. Although she was hesitant at first, her best friend convinced her to take an inaugural trip to Trinidad Carnival in 2013, the largest of the Caribbean carnivals (Brazilian Carnival, or Carnaval in Portuguese, is the largest in the world), and she was hooked for life. She went to Crop Over the very next year. Now, at 33, she has only missed one year of the festivities on either island.
"Me and my friends tend to go to Trinidad in February or March most years and then also Crop Over in August," she said. "That means that I have six months between each carnival where I know another carnival is coming up."
Historically, Crop Over dates back to the late 1700s when Barbados boasted sugar as one of its premium exports. At the time, the island was one of the wealthiest colonies in the British empire, said Tony Best, a native Barbadian and reporter for NYCaribNews. "Barbados [Crop Over] is historical because it goes back to the plantation slavery and, after emancipation, life in the plantation setting. Barbados calls its own 'Crop Over' because at the end of the crop, it was a celebration," he said.
According to the National Cultural Foundation, early "crop over" celebrations were intimate, taking place on the individual plantations. However, in the 1940s when sugar harvests stopped being the economical mainstay, the celebrations dwindled. Then in 1974, with government involvement, Crop Over began its evolution into the colorful celebration and financial powerhouse it is now known as. "The new prime minister of Barbados [Mia Mottley], her uncle, [Elton] "Elombe" Mottley, played a key role in developing Crop Over as we know it today," Best said.
Other festivals within the Caribbean isles — Jab Jab in Grenada, Rara Festival in Haiti, and other carnivals in St. Lucia, St. Kitt's, Jamaica, and more — are also rooted in that same central theme of life during slavery and after emancipation. "The whole concept is freedom. Freedom of expression. You take on different personas, hence the creativity in the costumes," Best said. "[With Carnival and Crop Over], the bus driver or the teacher, the doctor, the cabinet minister, they all can, on a particular day, shed all their professional importance and current roles in society and assume some different kind of identity. The notion, 'all a we is one,' comes out very clearly."
The overarching themes of freedom of expression
This sense of unity is what continually attracts first-time and repeat visitors like Lawson and 26-year-old Crystal Copeland, who has participated in Crop Over and Guyana's inaugural Independence Day carnival. She plans to attend Miami Broward Carnival this October. Women and men "on de road" — or marching along the parade routes in various carnivals — come in all shapes, sizes, races and ages, all with the option to wear as little or as much they want in the name of personal expression.
"If somebody wants to wear a wire bra and they have a heavier top or are more voluptuous, they're going to wear that wire bra," Copeland said. Revellers can choose to march with bands, which are actually part of a competition, where each band is judged on their costumes and the overall energy of their participants. "The band gives you an option to let you feel comfortable," Copeland said.
Lawson agreed, noting that during carnival season, women can show skin without penalty or discrimination and let go of body hang-ups and insecurities. "You see women of every shade and every shape being appreciated," she said. "[They're] wearing outfits where you'd be like, 'Really, lil' mama? A crop top? Oh, OK!' but looking beautiful and radiant and standing there with confidence, being received with warmth and joy."
Most Caribbean carnivals, although fun, come at a high price point
However, it's not cheap to join in on these pricey festivities. Lawson and Copeland estimated that on average, it takes at least seven to 10 months to plan a carnival trip and anywhere between $5,000 to $10,000 to finance the flight, accommodations, costumes, parties, food and transportation it requires. (In 2017, the average expenditure per visitor during Trinidad Carnival was reportedly $8,943).
Costumes with each band — backline, midline and frontline costumes, which dictate how large and complex the feather wings and body accessories will be— can range from $400 to $1,200. Depending on the origin city and length of stay, airfare and hotels, which are often booked as soon as after the previous year's festivities come to a close, can cost around $1,500. "It's easier to cancel it than to get it late," Lawson said. "There will be 100 people who are happy to take our place in that hotel." Then there's another estimated $1,000 for sun-up to sun-down fetes like Soca Brainwash in Barbados and Beach House in Trinidad, the latter of which includes performances, a high-end open bar and food such as curry lobster, rice and peas, oxtail, Buss Up Shut (paratha roti), roasted geera pork, doubles (curry chickpeas and baras) and more.
Despite the hefty cost, attendees insist that it's worth every single penny. "Going down the hill [towards Spring Garden Highway] is a mass of purple and pink and green and yellow and red and white feathers," Copeland said, recalling the vibrant costumes of Erupt The Band during her first Crop Over visit in 2016. "Then as soon as we hit the road, the music is blasting. You forget all the waiting, or everything. You're just having the time of your life, and I really had the time of my life."
It's why she, Lawson and slews of repeat masqueraders will never tire of the high that Caribbean carnivals bring. "Carnival is life," Copeland said matter-of-factly, already plotting on Trinidad Carnival in 2020 when she's confident she'll have enough funds to go all out. "I'm just going to be a carnival chaser, and I'm okay with that."