Mic Daily: Paul Manafort's endgame, Trump's culture war against black athletes and more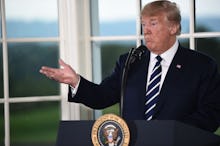 Welcome to Mic Daily: Mic's newsletter that cuts through the noise and lands in your inbox every weekday. We carefully curate each edition to send you a cross section of our most vital stories of the day. Want to receive this as a daily email in your inbox? Subscribe here.
Want more entertainment news in your inbox? Sign up for Hype Daily — Mic's morning entertainment roundup. It's got all the news you need to start your day.
As the Trump administration prepared to blast off with Space Force — the enterprising new plan to create a sixth military branch focused exclusively on preserving U.S. military dominance among the stars — scandals brewed in other, more terrestrial-bound corners of the government.
Former Donald Trump campaign chairman Paul Manafort's first federal trial is hurtling to a conclusion, with the prosecution set to rest their case against Manafort on dozens of bank fraud and tax evasion charges as early as Friday afternoon.
A House committee in West Virginia voted Thursday to bring 14 charges of impeachment against all four state Supreme Court justices, alleging charges of "corruption, maladministration, incompetency, neglect of duty and potential criminal behavior."
Facing mounting pressure over the Russia investigation, President Donald Trump on Friday kicked off another season of his culture war against football players protesting racial injustice during the pregame national anthem.
Researchers have started using the term "Snapchat dysphoria" to describe our desire to look like the filtered, more Instagrammable version of ourselves. A recent study in JAMA pointed out a 13% increase in plastic surgery patients seeking to improve their looks for selfies between 2016 and 2017 because of this phenomenon.