Trump renews attacks on "clowns and losers" of the FBI in Twitter rant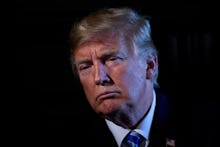 President Donald Trump on Saturday threatened to "get involved" in a conservative activist group's efforts to obtain Andrew McCabe's text messages, suggesting that the "clowns and losers" in the FBI have something to hide.
"Why isn't the FBI giving Andrew McCabe text messages to Judicial Watch or appropriate governmental authorities," Trump tweeted Saturday morning. "FBI said they won't give up even one (I may have to get involved, DO NOT DESTROY)."
"What are they hiding?" the president added.
Judicial Watch, a conservative watchdog group with ties to Steve Bannon and the alt-right Breitbart News, has been seeking the fired deputy FBI director's texts for months.
The group has been extremely controversial over the years, having made incendiary false or unfounded claims involving protests over the killing of Trayvon Martin in 2013, voter fraud in 2017 and the Clinton Foundation in 2018.
It has also waded into the right-wing conspiracy theory regarding the murder of former Democratic National Committee staffer Seth Rich; far-right conspiracy theorists, including Trump ally Roger Stone and some at Fox News, have falsely suggested that his unsolved killing was related to the DNC email hack in 2016.
Tom Fitton, the president of Judicial Watch, has suggested both the Russia investigation and the FBI as a whole be shut down.
McCabe, who was briefly the acting director of the FBI after Trump fired James Comey in May 2017, was terminated by Attorney General Jeff Sessions in March following repeated attacks from the president and his allies. Trump cheered the firing as a "great day for Democracy."
In April, an inspector general report found that McCabe had "lacked candor" in comments about media disclosures he made regarding an investigation into the Clinton Foundation, and criminal charges were recommended against him.
McCabe was also referenced in messages between Peter Strzok and Lisa Page, the FBI officials who were highly critical of Trump in private texts they exchanged during the course of their affair.
"I want to believe the path you threw out for consideration in Andy's office — that there's no way he gets elected — but I'm afraid we can't take that risk," Strzok texted Page in August 2016. "It's like an insurance policy in the unlikely event you die before you're 40."
Strzok has explained that he was recommending the bureau investigate allegations of coordination between the Trump campaign and the Russians immediately, even though it seemed unlikely Trump would be elected, but Trump's allies have suggested it referred to a secret plan to prevent Trump from becoming president.
Trump has frequently attacked McCabe, Strzok, Page and others in federal law enforcement in an effort to undermine special counsel Robert Mueller's Russia probe, which is examining possible collusion between his campaign and the Kremlin, along with potential obstruction of justice.
In his Saturday morning Twitter rant against the FBI, he questioned whether the "clowns and losers" he's been railing against for over a year have permanently damaged its reputation.
"Will the FBI ever recover it's [sic] once stellar reputation, so badly damaged by Comey, McCabe, Peter S and his lover, the lovely Lisa Page, and other top officials now dismissed or fired?" Trump tweeted. "So many of the great men and women of the FBI have been hurt by these clowns and losers!"