Chris Collins, a top Trump ally in Congress, drops re-election bid following insider trading arrest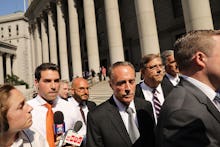 Congressman Chris Collins has suspended his campaign for re-election after he was arrested and charged with securities fraud earlier this week, the New York Republican announced in a statement Saturday.
Describing the insider trading charges against him as "meritless," Collins said that it would nevertheless be "in the best interests" of his district, the Republican Party and President Donald Trump for him to "suspend my campaign for re-election to Congress."
"Democrats are laser focused on taking back the House, electing Nancy Pelosi Speaker and then launching impeachment proceedings against President Trump," Collins said. "They would like nothing more than to elect an 'Impeach Trump' Democrat in this District, which is something that neither our country or my party can afford."
Collins, the first member of Congress to endorse Trump's long shot presidential campaign and one of the president's top allies on Capitol Hill, was arrested Wednesday on charges of insider trading in relation to securities of an Australian biotechnology company, where Collins served as a board member.
According to prosecutors, Collins gave non-public information about the company to his son, who was also indicted, to ensure he did not lose money on the company's stock. In a video uncovered by CBS News, Collins appears to be calling his son with the non-public information from the White House lawn while attending the annual congressional picnic.
Collins has also been accused of lying to prosecutors in an interview about the case.
He has denied the charges against him.
"I look forward to having my good name cleared of any wrongdoing," he said in the statement Saturday.
Collins, who represents New York's 27th district, was first elected to Congress in 2012 and served on the executive committee of Trump's transition team.
He has been one of Trump's top defenders, for which he's been dubbed "Trump's man on the Hill."
Collins was being challenged in the upcoming midterm by Democrat Nate McMurray, who had called for his Republican opponent to drop out of the race as recently as Saturday morning — just before the announcement.
Collins said in his statement that he plans to finish out his term to "assure that our community maintains its vote in Congress to support President Trump's agenda."